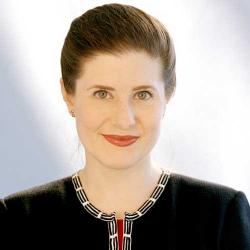 On April 16 and 17, Guggenheim curator Valerie Hillings, a 1993 Duke graduate, will share insights about pursuing a career in the arts.
Hillings' keynote, "My Life with Art: A Curatorial Journey from Durham, to New York, to the World," will be delivered at 6 p.m. Wednesday April 16 in Westbrook 0016 of the Duke Divinity School. She will address the evolution of her curatorial career, which started at Duke.
The following evening at 6 p.m., Hillings will participate with students in a panel discussion, "Navigating Art, among Other Things," at the Nasher Museum of Art lecture hall. She will have an in-depth conversation with students about the often-challenging confluence of art, human relationships and cultural boundaries.
The Duke Colloquium Fellows, a select group of students, designed this year's theme. Both events are free and open to the public. To register, go to colloquium.duke.edu.
Hillings began her career co-curating a group exhibition as a student at Duke. She went on to earn a master's and doctoral degree in art history from the Institute of Fine Arts at New York University, where she focused on modern and post-World War II art with concentrations in Russian and Western European art of the '50s and '60s. In 2004, she joined the curatorial staff of the Solomon R. Guggenheim Museum in New York. During her 10 years at the Guggenheim, she has curated and co-curated numerous exhibitions, and has been part of the curatorial team responsible for building a permanent collection and developing exhibitions for the future Guggenheim Abu Dhabi.
The Duke Colloquium is a university-wide initiative that began in 2009 as the brainchild of Dr. Andrew T. Huang, a Duke Medical School professor and CEO of the Koo Foundation Sun Yat-Sen Cancer Center in Taipei, in collaboration with Provost Peter Lange and a faculty advisory board. The Colloquium is dedicated to building a bridge between the humanities and professional life.
"The Colloquium represents what college should and can be -- learning in its truest sense, collaboratively and reciprocally, between students and faculty, without those aspects of school which often impede the learning process," said David Malone, director of undergraduate studies in Duke's Program in Education.
The Colloquium fellows are "students who are at ease conversing in a public forum," said senior Patrick Oathout, the group's founding president. "They're willing to devote time to thoughtful advance preparation and have demonstrated an interest in becoming productive members of a global society."
Stephen Nowicki, dean and vice provost for undergraduate education, serves as faculty advisor for the colloquium fellows, and finds the student response and commitment to each year's theme to be gratifying.
"Students are looking for this kind of out-of-class community to share their interests in some of the bigger questions about what an education should be about," Nowicki said.