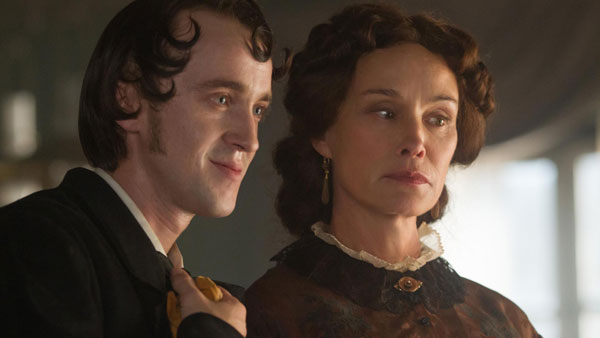 This past week, the film "In Secret," starring Jessica Lange (pictured above with Tom Felton) and Elizabeth Olsen, and based on a stage play by Duke theater professor Neal Bell, was released in theaters. Bell wrote the staged adaptation of the French novel "Therese Raquin" by Emile Zola.
Here, he explains his attraction to the novel, how the project evolved and his thoughts after viewing the film. 
************
My stage adaptation of the great Zola novel began as the libretto for a possible, though probably unlikely, musical.  Harry Connick Jr. tried his own version some years later -- a show with the forbidding title, "Thou Shalt Not" -- and that bombed, so I doubt if I would have been luckier.
I was attracted to this novel in the first place because I'd read and loved Zola's "Germinal" long ago. So I picked up "Therese Raquin" one day, thinking I'd like to get back to this writer who'd made such a strong impression on me, and couldn't put it down. It was a grim and grimly lyrical page-turner of adultery and murder, in which the 'soul murder' of the antagonists is so over the top that it becomes almost horribly comical.
It reminded me of film noirs such as "The Postman Always Rings Twice" that Zola may have influenced. But there was a major and fascinating difference: where the American versions of this story all feature cops or private eyes who hound the criminal lovers, in Zola's novel the lovers get away with it! No one ever suspects them. Their own inner demons deliver them to their fate. That's what makes the novel so harrowing -- and that's what I hoped to capture, in my adaptation.
The composer with whom I initially collaborated, Michael John LaChiusa, wanted to work with a stage adaptation, rather than the novel itself. So I wrote my play version, leaving holes into which songs would go -- and we did a workshop, back in the early '90s, at Playwrights Horizons in New York.  Michael John ended up not satisfied with how the work had turned out, though I thought his music was beautiful… and I ended up with an orphaned libretto.
And that's what it might have stayed except that Edward Elefterion, an enterprising New York University senior and director, asked me if I'd be willing to turn the libretto back into a non-musical play that he could direct as a senior project. I did that -- with much solid advice from a much younger Ed, including his insistence that I lose a Greek-theater-type chorus that I was quite fond of. The result was a non-musical version of "Therese" that played like a house on fire.  
Later, I met up with Michael Greif, director of the original production of "Rent." Michael did stunning productions of "Therese" at Williamstown Summer Theater Festival, and eventually at the theater where he was artistic director, the La Jolla Playhouse in California. After that, the play was published, and came to the attention of Charlie Stratton, a director in Los Angeles who did "Therese" at his theater, the Wilton Project.
Charlie fell in love with the Zola story, and decided he'd like to do a movie version using my play and the novel itself as source material.
He shot the movie two summers ago, in Belgrade, which stood in for 19th century Paris. By this time, though he had always been great about keeping in touch, my involvement with the project was minimal. Charlie had bought the rights to the play years ago, and he himself did the screenplay. I became a very-much-interested bystander, hoping for the best but not really knowing what to expect -- until I saw the movie, for the first time, in Durham.
And to my great relief, Charlie has done an incredible job. The movie is stunning. It bears a clear resemblance, to me, at least, to some aspects of my play: in some of the structure, especially in the first half, and in its dialogue, a fair amount of which comes from the play. But it's very definitely a movie, not a filmed play.  It's beautiful to look at because of the great cinematography, the performances are riveting, and the ending is sad and scary and powerful.
My play uses a number of expressionistic devices, including a rather prominent ghost, dialogue that falls into the ominous rhythm of a ticking clock, a painting that may or may not be alive, the spoken-aloud interior thoughts of a woman who's suffered a stroke. Those devices would not have worked in this film version, which exists in the more flesh-and-blood tangible world of "realistic" cinema. I miss some of those theatrical devices that provide a little relief from the story's rapid descent into darkness. But I thought the director came up with very subtle cinematic equivalents to the play's expressionism. The disquieting rhythms of the editing keep the viewer off-balance and anxious about "what happens next" -- the essence of good storytelling.
Some of the violence, which is even more extreme in the Zola novel, has been toned down. But the film captures the painful heart of a relationship that begins as a wonderful kind of joyous liberation, and then -- because of bad choices the lovers make -- transforms into a literally inescapable nightmare.
Bell's most recent stage adaptation was of a version of the G.K. Chesterton novel, "The Man Who Was Thursday," produced by Durham's Little Green Pig Theatrical Concern this past fall.