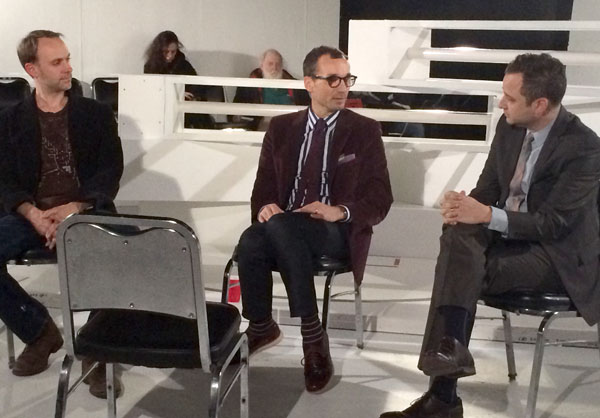 Alec Duffy, Wayne Norman and Aaron Greenwald talk about Hoi Polloi's "The Republic."
As ticketholders entered Durham's Manbites Dog Theater Friday, they already found the theater's "fourth wall" broken down. 
With white walls, multiple pillars and columnar LED lights on stage, and seating around the perimeter, Hoi Polloi's "Republic" put a visually modern and minimalist take on Plato's treatise on government and citizenship.
Alec Duffy (T'98), Hoi Polloi's artistic director, developed "Republic" over a two-year residency at Duke, having shown snippets of the work last spring. Duke Performances presented the play at Manbites Dog Theater.
Following the performance, Duffy and Wayne Norman of the Kenan Institute for Ethics and philosophy department, joined Aaron Greenwald of Duke Performances for a discussion about the classic work's ethics and themes.
Panelists and audience members discussed their experiences of "Republic," exploring the influence of Occupy Wall Street on Duffy's production and the ethics of  "doing good in order to be good."
One audience member commented that the beginning sequence, in which cast members are in dialogue while pacing through the columns, seemed "a bit overdone." Duffy said the movement forces audience members to "slow down their heart rate" and take a rest from over-scheduled lives and electronic devices. The walking, similar to many other aspects of the performance, was designed to feel like a meditation. Hoi Polloi uses this movement without speech, as well as other theatrical techniques such as sound layering, to explore the play's themes. 
Hoi Polloi's 'Republic' runs until Sunday, Mar. 1, at Manbites Dog Theater. Details at dukeperformances.duke.edu.