Construction Continues on Reclamation Pond
Pond between Circuit Drive and Towerview Road expected to be done in spring 2015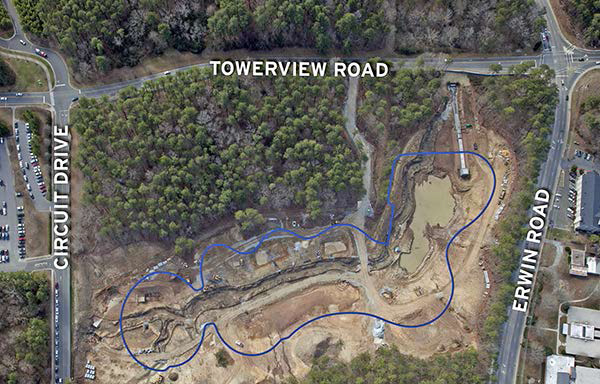 This is an aerial view of the reclamation pond site. The outline in blue shows the footprint of the 6-acre pond. Photo courtesy Facilities Management Department.
Construction on a water reclamation pond between Circuit Drive and Towerview Road continues with site excavation, installation of underground pipes and construction of a dam to eventually manage the pond's water level.
While significant progress has been made, the high amount of rainfall over last summer and this winter has delayed completion of the pond to spring 2015, said Steve Carrow, project manager with Duke's Facilities Management Department.
"Each time it rains, it really hinders our operation," Carrow said. "You may lose three days or more after one rain day event."
Once operational, the pond will collect rainwater and serve as a filtration for the runoff from 22 percent of the main campus area. Some of the water from the pond will be pumped to the nearby chilled water plant for use in the process of making chilled water. Using water from the pond is expected to save the city of Durham about 100 million gallons of potable water per year.
The 12-acre site will include amenities like a pavilion, boardwalk and nearly mile long walking path.
To make room for the pond and related infrastructure, crews have worked amid wet conditions to excavate the area, moving about 130,000 cubic yards of dirt. Nearly half of the dirt is being reused for Erwin recreation field on Central campus.
Another large portion of work has involved the pond's pump house, which will filter water and pump it to the chiller plant, and the outlet structure, which will control the depth of the pond. The outlet structure has been built using Duke stone quarried in Hillsborough.
Carrow said project managers will carefully time the planting of vegetation at the site. The pond's edge will include 40 herbaceous species, and site plans also call for 21 different shrubs and 60 tree species, including maples, cedars and magnolias. All vegetation, Carrow noted, will need to be planted during the dormant season.
"We're making the pond a destination - someplace desirable to go, and the plantings are part of that experience," Carrow said.