If you want to know what a provost does -- and after 15 years in the office, Peter Lange sometimes still gets that question -- Duke's Africa Initiative provides one of many answers.
Read More
Cultural anthropologist Charles Piot and other faculty members came to Lange in 2010 seeking to promote more interactions among a growing network of faculty working in Africa. Lange heard them out, reviewed their data and provided $100,000 in strategic funds annually for four years to help launch the initiative, which has since grown steadily.
"I think the key for Peter was for him to see that there was broad faculty support," Piot said. "He liked the fact that demand for the initiative came from faculty, not administrators, that it was bottom-up. 
"Also, he's a doer and wants to see the goods.  The fact that we organized an ambitious program of popular events and activities right off the bat was proof enough for him that we would use the money to good effect.  In short, the lesson for me was if you bring him a good idea, one that has broad support, he's easy to work with and he moves quickly."
The Africa Initiative is one example of how Lange -- the university's longest-serving provost ever -- has placed his fingerprints on a range of global initiatives, interdisciplinary institutes and innovative undergraduate education programs that have changed the university. As he prepares to leave office at the end of the semester, Lange's decisions have affected thousands of faculty, staff and students and made Duke a different institution.
When he took office in 1999, Lange was one of the nation's leading scholars of European politics. He left that work behind because he wanted to do what he asked so many faculty to do over the next decade and a half: expand their intellectual interests.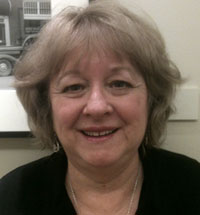 McHenry in the Office
Peter Lange isn't the only person leaving the provost's office. His long-time executive assistant Patricia McHenry is retiring after more than a decade of keeping the office running effectively.
Read more here.
"It's all been a continuous learning process," Lange said during an interview in his Allen Building office. "I said to [then-President] Nan Keohane on the day she offered me the job that, 'This is going to be fun.' To my recollection she was surprised to hear me say that.  But to my mind that's what it's been throughout.  There's not a day I haven't learned something valuable or interesting."
For the past decade, current President Richard H. Brodhead and Lange have met for at least 90 minutes a week to discuss university issues.  Those conversations are a highlight of the day for Brodhead.
"I remember the first time I met him," Brodhead said. "I had been appointed president, and I knew a little about him but we hadn't talked. We just sat and talked about plans, and I immediately thought he was going to be great to work with.  Peter doesn't have good and bad days.  He gives attention to all the issues in his sphere. He always approaches them with curiosity and resourcefulness and with attention to the well being of Duke University."
Colleagues say Lange has put his stamp on Duke by a combination of approaches.  On one hand, he has an open-door policy, as with the Africa Initiative, and is willing to hear new ideas and act quickly on them.  Lange has built flexibility into the decision-making process, said Susan Roth, vice provost for interdisciplinary affairs. 
"If there is an issue about X and he needs a decision, he'll want you to get back to him within a day," Roth said. "Sometimes it'll be a question from a dean or a faculty member, but sometimes it's just an interesting idea. But we'll drop what we're doing to act on it."
But that flexibility comes within a tight strategic intellectual framework that shapes university priorities. Much of this framework still comes out of the 2006 strategic plan "Making a Difference." Written soon after Brodhead arrived by a panel led by then-Vice Provost John Simon [current provost at the University of Virginia], the plan marks a moment where various visions for Duke came together. Lange said much of his work since then has been to implement that vision and to adapt it to the changing academic and financial landscape.
"Making a Difference" was the blueprint for how Duke could leverage its interdisciplinary strengths and connect faculty from different disciplines to collaborate on real-world problems, and then use that knowledge to serve society and enhance the undergraduate experience.
"When Dick arrived as president, we already had in place the interdisciplinary commitment we made in the '80s and the global commitment in the '90s," Lange said.  "But he made 'knowledge in the service of society' a theme of his presidency from the outset, even in his inaugural speech, and it mapped very well upon the entrepreneurial efforts of our faculty. 
"What changed was that we realized that if we're going to do interdisciplinary, we're going to have to change structure.  We couldn't just throw money at it.  After the strategic plan, the institutes become more formalized.  We put in a process for joint appointments, sharing research overhead and adapting the Appointments, Promotions and Tenure (APT) process to interdisciplinary work.  We had to get all of these things in alignment.  If you employ the same criteria for APT you did 30 years ago, then these people aren't going to get tenure and you don't get alignment."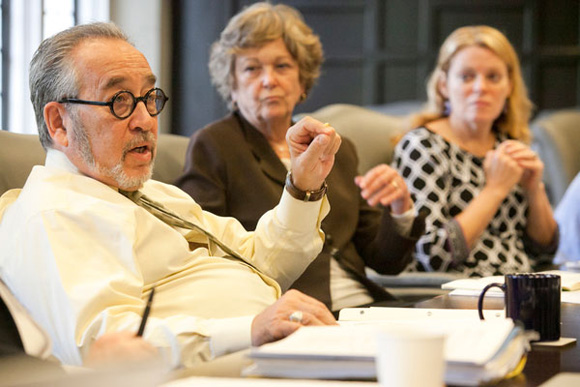 Peter Lange discusses Duke Kunshan University. Photo by Duke University Photography.
There have been bumps along the way. Some faculty members have been vocal about feeling sidelined on strategic issues such as online education and Duke's plans for Duke Kunshan University (DKU).  Other critics claim Duke's administrative plans for faculty diversity have produced better numbers but not enough change from the bottom up. 
But even when there have been setbacks on details, the overall strategic vision appears to have wide support.  Lange can point to strong faculty and student involvement in different initiatives -- from Coursera online courses to Bass Connections, a new interdisciplinary curriculum based on contemporary problems.
Lange said Duke's distinctive strengths are attracting faculty "who always wanted to collaborate with researchers in other disciplines inside and outside of their school but couldn't at their home institution.  There are some scholars who decide the exact opposite, thinking Duke's not the place for them.  That's OK.  The important thing is we have made our choices. If you don't make choices, or if others make them for you, then probably the boundaries of what you are doing will become too ambiguous."
When faced with tough decisions, Lange said his strategy was "conversation.  Lots and lots of conversation and being straightforward.  That's the only way to build trust.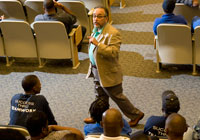 Peter Lange discusses the Campus Cultural Initiative with East Campus housekeepers in 2007.
"That was our approach during the 2008 downturn. I went to every school and talked to faculty about where the university was, the implications of the downturn for the university and for their school, and what their choices and opportunities were.
"In the end, faculty and administrators worked through the downturn and sustained our momentum.  We reduced expenditures in non-academic areas, we reduced some of the support activities on the academic side, and some of the programs we decided to forgo or slow down.  But because we did that, we took advantage of some serious opportunities because we could sustain some level of faculty growth at a time where other places couldn't."
A similar effort has slowly grown faculty support for the China project, what Lange called "the most controversial strategic bet we're making." Yet DKU also is an example of how Duke's strategic planning has focused on a long-range vision.
"We know it will succeed at some level over the next two or three years, but we really won't know whether it is a good strategic bet until 20 years down the road. That's always been part of the vision," Lange said.  "And what some people don't understand is there is a lot of potential for adjustment so that we can drop things that don't work and concentrate on those that do."
After leaving office, Lange will take accumulated leave before rejoining the faculty.  He won't return to European politics, saying too much has happened while he was provost for him to catch up on the scholarship. Instead, his future scholarship will build on what he has learned from the Duke experience.
"We've have had a culture that has been built around ambition and innovation for quite some time, at least dating back to Terry Sanford," he said. "We've moved from being a place that looks at others to decide what we should be to one that looks at ourselves when deciding what to be.
"We have an intellectual vision of how a 21st century university should prepare students, conduct research and contribute to the development of knowledge and to society. Now, other schools are looking and copying what we do."
Photography by Duke University Photography. Below, Peter Lange and President Richard Brodhead listen to Academic Council Chair Susan Lozier in 2012.