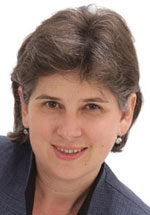 Darla Deardorff, adjunct research scholar in Duke's Program in Education
A Duke University conference next month will examine the teaching and learning of intercultural skills. The free conference, an effort by faculty to give intercultural teaching and learning a broad, campus-wide platform, will be from 9:30 a.m. to 4 p.m. Thursday, March 6, in Perkins 217. It is open to all Duke faculty, staff and students.
Conference co-organizer Darla Deardorff, an adjunct research scholar in Duke's Program in Education, discussed the event with Duke Today. Here are excerpts:
This conference is an examination of intercultural learning and teaching. What does that mean?
Intercultural learning and teaching is about the knowledge, skills, and attitudes necessary for successful interactions, whether in the classroom with students and faculty from different backgrounds, or in daily life.  This conference is a grassroots effort from Duke faculty to engage faculty, staff and students on what it means to address intercultural learning in the classroom, regardless of discipline.  Members of the Intercultural Working Group have come from a variety of backgrounds including from the schools of engineering, divinity, arts and sciences, nursing and medicine.
What is the value or necessity of having these intercultural skills?
Intercultural competence is emerging as a key issue in higher education around the world. Given that all interactions are intercultural and it is imperative to educate global-ready graduates, it behooves universities to address this throughout the curriculum. As to the value of intercultural competence, Martin Luther King Jr. summed it up nicely when he said, "We must learn to live together as brothers, or perish together as fools."
So this is more than just about language skills?
Much more. One can speak a language fluently and still be interculturally incompetent in navigating the culture. In fact, the term "fluent fool" has been used to describe those who know the vocabulary and grammar without deeply understanding the culture with its related complexities, worldviews and values that underlie behavior. Language does not ensure cultural competence (even in one's own culture!). 
Are these skills sought by employers? Why?
Research on employers is showing that these intercultural skills are not only being sought by employers but they highly value these skills even over technical knowledge. Many employers understand the necessity of having employees who can work together successfully, which is where the intercultural piece becomes so crucial, given the increasing diversity in the 21st century workplace. They also understand that innovation occurs through the diversity of perspectives and backgrounds and view diversity as a strength in the workplace.
Are these the sort of teaching skills that faculty members inherently have, or do they need to learn them?
Research is showing that intercultural competence does not occur naturally in most people and further, it's a lifelong journey for all of us. Faculty can play a key role in helping to guide students in their own intercultural competence development and to do so, it's important for faculty to have more of a foundational background around this -- and this conference is a first step in that direction.
More information on the conference is available at http://interculturallearner.wordpress.com/