Drivers Go It Alone
Duke hopes to cut solo commuting by 1,750 drivers in five years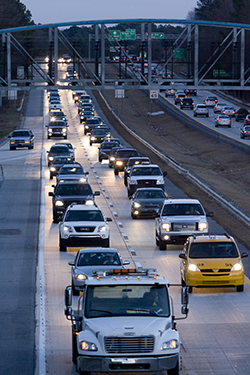 With three out of four employees driving alone to work, Duke recently announced a new goal of reducing overall drive-alone rates by 5 percent over the next five years.
That means 1,750 Duke employees will need to switch to one of several alternative transportation options such as carpooling, public transit or bicycling.
"We've made a conscious effort in recent years to offer new alternative transportation options and enhance those in place," said Alison Carpenter, manager of Duke's transportation demand management program. "We've seen several programs take big steps forward, including more people utilizing public transit and vanpool."
In 2013, 75 percent of all University and Health System employees drive alone to work, but that number has dropped from a high of 85 percent in 2004, when annual employee surveys began. Duke's ultimate goal is to reduce the drive alone rate to 45 percent by 2050 to reduce Duke's carbon emissions and help decrease demand for parking on campus.
Last year, 8,750 of about 35,000 Duke employees were registered to use an alternate commute to get to and from campus. Employee commuting accounted for 13 percent of Duke's total green house gas emissions in 2013, which is still above intended levels.
"One of the most important areas where we can reduce Duke's carbon footprint is by cutting down on emissions related to transportation," said Tavey Capps, Duke's sustainability director. "However, it's up to individuals to make this choice. Even using alternative transportation one day a week can have a lasting impact on helping Duke become carbon neutral by 2024."
Duke has been working to make it easier for employees to choose an alternative commute.
With a free GoPass, all students and eligible employees can save on fuel and parking and receive free rides on public buses throughout Durham, Chapel Hill, Raleigh and in between. Vapoolers see an average savings of nearly $174 per month in fuel costs.
For Laura Alvis, assistant controller for the Medical Center's General Accounting and Financial Reporting, joining a vanpool was an easy choice to cut down her commuting costs while putting time back in her day. Along with 11 other employees, she pays $66 a month to ride to work from Mebane, taking her newfound time to catch up on emails, reading or checking Facebook.
"My favorite part is the fact I'm saving money, but it's also nice to not have to drive every day and be able to do other stuff," Alvis said. "Riding to work becomes more relaxed when you can sit back and do what you want to do."