Ben Jealous Urges MLK Audience to Change the World
Find allies to fight social wrongs, former NAACP president says in Duke Chapel service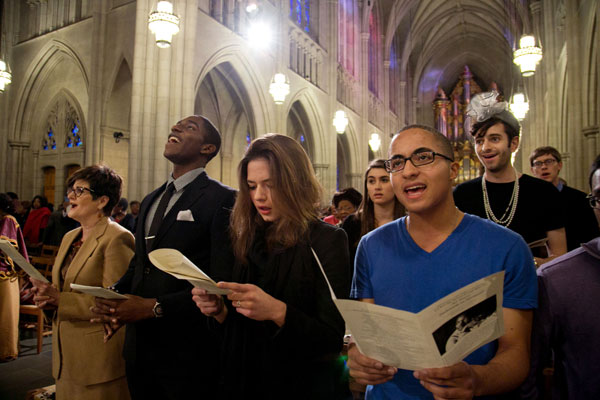 Former NAACP President Benjamin Jealous urged a Duke Chapel audience of about 1,300 people Sunday to commit to changing "one thing that upsets you about Durham and the world."
Jealous, the keynote speaker at Duke's annual commemoration of the Rev. Martin Luther King Jr.'s birthday, cited the example of a black high school student from Johnsonville, S.C., who was so moved by a death sentence given to a 16-year-old in her state that she created a coalition at her school between the anti-juvenile death penalty group she led and a pro-life group. She ultimately organized coalitions against the juvenile death penalty that were successful in changing state laws in three states.
"Not yet 25, this young lady had the courage to stay in the fight, to say if something is wrong I must change it," said Jealous, who also criticized recent actions by the North Carolina legislature that he said it's taking the state backwards on civil rights. "I tell this story because we are in perilous times. A small group of people have hijacked state governments across the country."
Jealous shared stories from his own work, including a successful effort in 1993 while still a college student to stop the governor of Mississippi from turning a public historically black university into a prison. During the controversy, a suspicious looking old white man in a baggy shirt approached Jealous and two other organizers in a Waffle House. Jealous restrained his colleagues, who suspected the man had a concealed gun. But the man surprised the group by telling them that if they needed someone to help them, to give him a call.
"When you're an organizer committed to winning a victory, in a democracy you can't afford not to respond to anyone's extended hand," Jealous said to applause.
He said it is important today for young people to hear the stories of ordinary people working in coalition to achieve unexpected victories. "Once you decide and commit, the task proves easier than you thought," he said.
Jealous spoke after celebrations of dance, music, chorale works, including a South African hymn honoring the late Nelson Mandela. Rachel Fraade, a representative of the Jewish Student Union, and Nourhan Elsayed of the Muslim Student Association lit a candle of "peace, hope and justice," surrounded by barbed wire to symbolize the "darkness, pain and violence in the world."
President Richard H. Brodhead, Duke University Hospital President Kevin Sowers, Duke Black Student Association President Marcus Benning and Durham Mayor Pro Tem Cora Cole-McFadden also spoke.
The theme of this year's MLK commemoration is, "50 Years: Backwards or Forward?" evoking the recent 50th anniversary of Duke's first black undergraduate students and the 1963 March on Washington while also looking ahead to the 50th anniversary on July 2 of the Civil Rights Act of 1964.
In his welcome, Brodhead cited the university's establishment in the segregated South and the first stirrings toward integration in 1948. He said the first five black undergraduate students to integrate the university in 1963 must have had King's speech at the March on Washington "ringing in their ears" as they began their studies.
Last year's 50th anniversary commemoration of Duke's integration was a time of reconnecting with alumni and an opportunity for renewing the university's commitment to equity and fairness, Brodhead said. He noted that today's incoming Duke students, born in 1996, don't remember firsthand the Clinton Administration, let along the civil rights era. "We don't live in a world that has been purged of inequities," Brodhead said. "We need to draw the lessons of the civil rights movement closer to us."
Benning, a Duke senior, also spoke of the need to form coalitions to challenge the state legislature. He said Duke students are trained for service to society and are in a good position to lead on many issues, including support for fair admissions and financial aid policies for undocumented immigrants.
Luke Powery, the first African-American dean of Duke Chapel, also spoke and described prayer as "a secret non-violent weapon" that King used in quieting his own fears during the Montgomery bus boycott in 1955, the event that launched King to national prominence.
Below, 100 Men in Black Choir performs during the MLK service in Duke Chapel. Bottom, after the ceremony, Maya Lewis, 13, greets keynote speaker Benjamin Jealous, as Maya's mother, Holly Lewis, Duke '85, looks on. Photos by Jared Lazarus/Duke University Photography