7 Degrees? How Duke's Heating Systems Held Up
Facilities Management staff keep heat running during freezing temps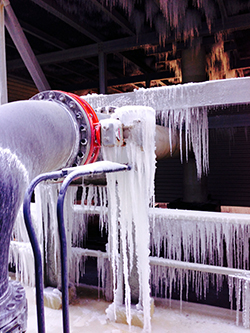 The National Weather Service recorded a record low of 7 degrees between Jan. 6 and 7 in Durham, easily beating a previous low of 19 set in 2010.
On campus, mechanics and other Facilities Management Department staff were busy, as Duke's heating systems hit record-level use. In the early hours of Tuesday morning, Duke's West and East Campus steam plants provided almost 350,000 pounds of steam per hour, 75 percent more than the winter average of 200,000 pounds per hour - the equivalent of 5,000 single family homes.
Chris Silcott, operations engineer and supervisor for Facilities' steam and chilled water systems, said Duke was able to maintain a normal level of heating - about 68 degrees for over 10 million square footage of buildings on the Central Control System - due to several key advanced planning measures. Buildings on the Central Control System include the entire medical center, Duke Chapel, East and West Unions and most buildings on East and West Campuses.
"We've been tracking weather conditions closely this winter to plot trends that help us predict how an extreme cold snap would impact our systems," Silcott said. "We've had fantastic support from our control technicians that kept our data trends accurate."
Prep for the cold weather began Jan. 3, when Duke was alerted by its gas supplier, PSNC Energy, that Duke's gas use would be curtailed on Sunday or Monday in order to maintain an adequate gas supply to customers who use gas exclusively for heat and do not have a backup fuel source. That allowed Facilities time to prepare its three-day backup diesel oil supply of 160,000 gallons to be used as a supplemental means to heat buildings across campus.
More than half that amount of fuel oil has been used since Monday, an almost 100,000 gallons have been refilled into the tank. PSNC returned to normal gas delivery on Wednesday afternoon.
As part of preparations, Silcott and Chris Bolduc, maintenance engineer and supervisor with Facilities, made sure staff checked and tested all equipment necessary to burn fuel oil.   The last time Duke faced curtailment, the West Campus Steam Plant was under renovation and required many temporary systems to provide steam to the university. An investment in new boilers, piping systems and control systems allowed for this week's curtailment challenges to be handled with relatively small concerns.
Next year, Duke will be supplied with gas from a new extension that will provide the steam plants with uninterruptable gas from PSNC Energy. Future challenges, like extreme weather, may require Facilities to switch from gas to fuel oil, but Facilities staff at the central steam plants said they're committed to provide reliable and dependable steam to the campus regardless of the fuel that is available to burn.
"All the people who helped are what made our efforts a big success," said Darin Smith, utilities operations and maintenance manager. "Utility plant operators and mechanics did an exceptional job of working together because everyone had the same goal in mind - to keep steam in the pipes."