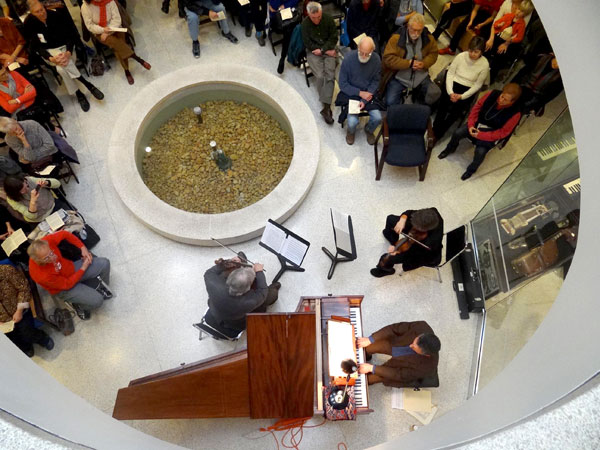 The Department of Music pulled out two of its treasured historic instruments from its special collection Friday for a rare appearance in a concert of 18th century music.
The concert in the lobby of Biddle Music Building, featured the department's historic fortepiano, made between 1805 and 1810 in London, and an 18th century English violin.  Both instruments are part of the Duke University Musical Instrument Collections (DUMIC).
Accompanying Duke faculty members pianist Randall Love and violinist Eric Pritchard, cellist William Conable brought his own historic cello using special gut strings appropriate to the time period.
The concert featured music by Giacobbe Cervetto, Josef Haydn and Ludwig van Beethoven.
Following the performance, the audience of about 100 people received a close look at the more than 200 instruments in DUMIC.
For more information about the instruments, click here.
Photos by Geoffrey Mock