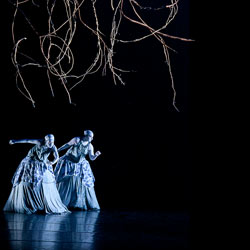 Duke University will host a three-day conference on the impact of the African diaspora on dance forms around the world.
"Dancing the African Diaspora: Theories of Black Performance" will convene Feb. 7-9 on Duke's East Campus. The conference is free for Duke students, faculty and staff; $75 for non-Duke students and retirees; and $100 for the general public. Register here.
More than 75 presenters will come from all over the United States to consider the African Diaspora's global impact on various forms of dance, including salsa, tap, samba, hip-hop and swing dance, to name a few.
The conference is organized by the Collegium for African Diaspora Dance (CADD), a collaboration of dance scholars, dancers and teaching artists who explore African dance. Brought together by Thomas F. DeFrantz, a Duke professor of African and African American studies and dance, CADD also includes Duke dance professors Ava LaVonne Vinesett and Andrea E. Woods Valdes.
"It is simply time to reflect upon and mobilize what we know about these dances and consider black performance in all of its idioms," DeFrantz said.
The conference will take advantage of the two-week residency at Duke of the dance company Urban Bush Women, founded by Jawole Willa Jo Zollar, who is also the Nancy Smith Fichter Professor of Dance at FSU. The residency, hosted by Duke Performances, includes master classes for dance students.
Professor Thomas DeFrantz previews the conference with some moves of his own.
Urban Bush Women will launch the world premiere of "Walking with 'Trane," a piece inspired by the life of John Coltrane and his seminal jazz suite "A Love Supreme," with live music by pianist George Caldwell.
Another highlight will be the presentation by b-girl Ana "Rokafella" Garcia, who will screen her film, "All the Ladies Say" on Saturday, Feb. 8, at 3:30 p.m. in Richard White Auditorium. The film highlights the lives of six iconic female street dancers who have carved out a niche in the physically challenging, male-dominated breakdance world. It is free and open to the public. A full schedule of events is at http://aaas.duke.edu/dancing-the-african-diaspora-2014/schedule.
Vinesett said the conference will create a space for dance colleagues to share their visions of the African diaspora and to see how the field has evolved.
"I feel excited that I am finally arriving at a place where I'm not the only one interested in the work I'm doing," Vinesett said. "I'm interested in the connections we will make with other scholars and how the African diaspora branches out and connects to multiple disciplines, not just how it is presented on a concert stage."
Woods, a dancer and choreographer with her own company SOULOWORKS, will perform "To The Max" on the Saturday evening of the conference.
"This initial conference will be unique in that the emphasis is on research, which is so relevant to both scholarship and performance," Woods said. "I anticipate a stimulating exchange of ideologies and experiences."
"Dancing the Black Diaspora" is sponsored by DeFrantz's dance company, SLIPPAGE: Performance|Culture|Technology; Duke's Humanities Writ Large project; the Collegium for African Diaspora Dance; the Corporeality Working Group; the Duke Dance Program; and African and African American Studies at Duke.