Duke political science professor Kerry Haynie has a telling anecdote about the changes in the Duke campus environment for African Americans.  In the 1980s, as a young high school student in North Carolina, Haynie said his mother would let him apply to any school but Duke.
"But 10 years ago, when I was hired as a faculty member, she celebrated with me," Haynie told a meeting of the Academic Council Thursday in a crowded Westbrook Building classroom. 
"That kind of change didn't just happen.  Trustee Daniel Blue talked about it [in a 2013 Founders' Day address].  It took hard work, and it's going to take continued hard work," Haynie added.
Faculty took the first step toward determining what that work would be during a 75-minute discussion on diversity and inclusiveness. Council Chair Josh Socolar said "while [Duke's] mission remains relatively constant, our vision of how to fulfill it can and does change over time," and that after 25 years of diversity initiatives, this is a good time to update our vision of a diverse and inclusive university. 
The conversation comes as Duke is ending a 10-year Faculty Diversity Initiative launched in 2003 and is about to select a new provost to lead the academic side.
The conversation began with comments from Haynie and three other Duke faculty members. Karla Holloway, James B. Duke Professor of English, said the diversity initiatives have changed the campus environment, but it also has had "unintended consequences."
"Have we made missteps? Have we declared victory too early? Have we allowed some of our new interests to displace attention on underrepresented minorities?  Yes.  All of this may have come out of an interest to make Duke the best, but the answer is yes.
"What we have not done well is to assess the impact the program will have on the 'next Duke.' The choices we've made have often solved the issue immediately facing us, but not the forward-looking problem we will face," Holloway said.
Holloway said bold action would mean moving away from the administration-directed initiatives of the past and having faculty take ownership of diversity and inclusiveness. She said faculty could best recognize that diversity "has made Duke better" and move forward on new efforts that would carry less unintended consequences.
"It's time to shift responsibility for diversity from the administration to the faculty.  Our language has distanced us from a focus on underrepresented minorities.  We can pull them back to the center, but the leadership must come from the faculty, with the wherewithal and the resources from the administration," Holloway said.
Haynie said the diversity initiatives have been shaped by a particular administrative structure. He pointed to the use of "walkdown" funds, where the provost's office initially funds some diversity hires, with the subsidy being reduced over five years until the school takes on 100 percent of funding. That approach has, in some cases, stressed school budgets.
"We don't want a discussion of diversity to begin with 'What will it cost us?'" Haynie said. "Rather we want it to start with 'How will it benefit us?'"
Faculty members emphasized that diversity has underpinned Duke's growing excellence over the past quarter century.  One challenge is how Duke's ambition for a greater international reach affects its vision of diversity. Haynie said such efforts must embrace a wider vision without losing sight of the university's history.
"It's a mistake to think we're in Durham rather than 'of Durham' or in the South rather than 'of the South,'" Haynie said. "The pool we will draw from in 2040 will be very different than we draw from now."
In his comments, Fuqua Dean William Boulding discussed lessons from the school's efforts to build a culture of diversity. 
"One is where collaboration is across a homogenous group, it's not real collaboration," Boulding said.  "It's people thinking the same thing everyone else is thinking.
"The other is simply throwing together diverse people (and it) is not likely to get great results.  The big successes only emerge when you have a culture of respect for all people in the community."
He noted the challenge is encouraging a strong culture built around common values while also promoting a diversity of experiences.  But Boulding said Fuqua faculty, staff and particularly students have responded strongly to the effort.  He ended by pointing to a blog post this week by a student on "Being a Woman at Fuqua is a Beautiful Thing."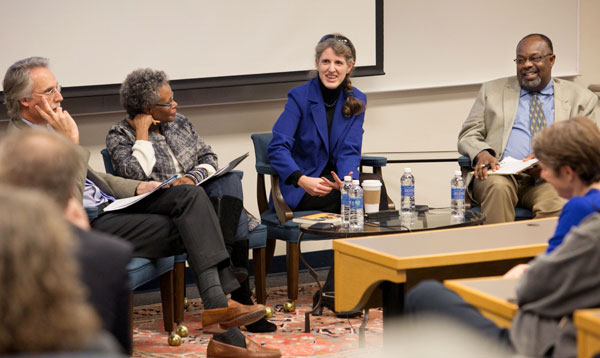 Jennifer West makes beginning comments during the Academic Council's conversation on diversity. Other panelists included William Boulding, Karla Holloway and Kerry Haynie.  Photo by Jared Lazarus/Duke University Photography.
Engineering professor Jennifer West, who has led efforts to encourage more women in the fields of science and engineering, said the evidence shows "leadership can change climate, by making it clear about what behaviors and values are appropriate, by providing training and conversations about topics such as implicit bias."
West said diversity initiatives must focus on more than numbers, although numbers do remain important for understanding the campus environment for underrepresented minorities.
"Diversity is more than bean counting," West said.  "When the numbers are significantly low, the sense of isolation can be profound.  We see that when the numbers grow, the climate changes."
During the council discussion, chemistry professor Kathy Franz picked up on West's comments, saying she had seen over the past decade greater acknowledgement of the effects of implicit bias, in part because of training from Ben Reese and the Office of Institutional Equity. Everyone is subject to bias, but Franz said institutional procedures could accommodate for this and lead to better decisions across all dimensions of the university's activities, such as hiring and developing faculty, staffing committees, nominating colleagues for awards, writing letters of recommendations for students and admitting and training students.
"The scholarship on implicit bias is strong.  The data are out there," Franz said. "But as a faculty we need to own it."
Council Chair Socolar said the conversation will continue, but whether it ends with a new policy or council resolution was undecided.  He said the council's executive committee would meet to determine next formal steps.
Meanwhile, one goal of the session was already met.  Following the council meeting, the conversation continued outside in the hallway as dozens of faculty met in small groups during a reception.