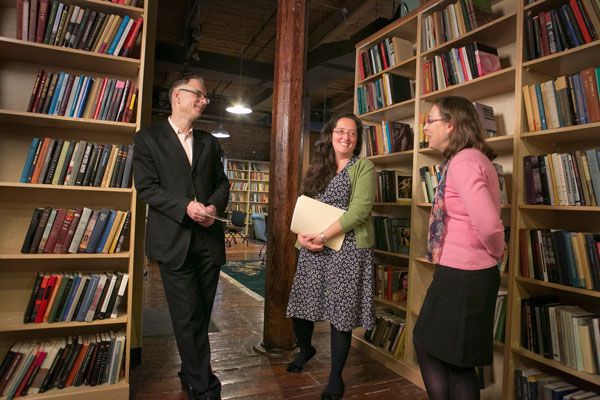 The publishing world is being turned upside down, but Duke University Press is continuing to publish great scholarship despite the changes, its editorial director says. 
"We know how to adapt," says Ken Wissoker (pictured above with Duke University Press book designer Amy Ruth Buchanan and Press publicity and advertising manager Laura Sell). "What is currently commonplace for a book -- five-six chapters, 250-300 pages -- is closely tied to the printed bound book.  That is changing. People are going to keep reading books, but the question is what form will win out. The answer is probably all of them.
"The authors I'm contracting with now won't have their books ready for publication for four, five years, but I have to figure out now what the market will look like and how books will be consumed then."
The Press publishes around 120 books a year in the humanities and social sciences written by scholars worldwide, along with about 45 journals.  It is widely considered among the top university presses in the world, with its books and journals winning many prizes.  "The challenge is to indentify important new directions in scholarship while simultaneously staying attentive to a continually changing marketplace.  It's intellectually meaningful, unpredictable and exciting," Wissoker said.
In an interview with Duke Today, Wissoker talked about Duke University Press' relationship with university intellectual life and how it is managing a changing marketplace: 
The long-form book is still alive
For junior faculty members looking to earn tenure, reports of the death of the academic book sound ominous.  Wissoker believes the reports are premature. The publication process at Duke University Press is still designed to help scholars present their theses in the fullest form.
"To me there is something different about putting together a long-form argument, something that involves more than a smart journal article.  The difference is about the ability to sustain a rigorous argument over a number of chapters, and that is difficult and valuable."
"I tell young faculty members that at Duke University Press, we make the process as transparent and reasonable as possible.  Our process, which often requires three rounds of peer review, involves a lot of guidance and support of the author, but what makes our press so well regarded is we take the process seriously.  We look for reviewers who will make the book better. The author needs to have confidence that this process works and will help them professionally."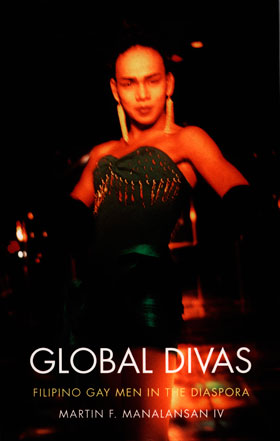 What's the market for a study of Filipino gay men living in north Jersey? Pretty large, if its scholarship can be used outside its niche, Wissoker says.
You can be in a small field and still write a book that sells well
One best seller for the press, which sold more than 6,000 copies, came from a author who was the only person working in his small interdisciplinary niche. Wissoker said it was an example of a book that provided a kind of thinking that can be used in classrooms outside of the specific field.
"Some commercial publishers will tell a faculty author, 'Your idea is interesting, but why don't you instead write a textbook so it can sell better?' We prefer to support the author in publishing their own work, but authors need to be realistic about their goals for the book. If they want to write a book that will be taught to undergraduates and it goes 450 pages, we ask them, 'Would you teach anything that is 450 pages?'" 
Like the university, Duke University Press has growing international aspirations
One highlight for Duke University Press in 2014 will be the launch of the Journal of Chinese Literature and Culture, providing new Chinese scholarship translated into English. Wissoker says the journal came out of a strong interest among Chinese academics to get their work more widely distributed among American scholars. To do so, they turned to Duke University Press.
The launch of the journal offers parallels to the origins of the Duke-NUS Graduate School of Medicine and to Duke Kunshan University. Wissoker says it's another example of how the Press' and university's strengths complement each other.
"We have built a globally known press.  When someone thinks they want to get their scholarship to an international audience, they know our books and are more likely to think of using Duke.  This is a good thing and it fits well with the university's aspirations."
Prestigious journals programs help attract authors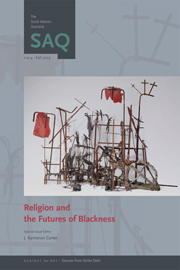 The South Atlantic Quarterly is among the several prestigious journals published by the Duke University Press.
Long-standing Duke University Press journals such as South Atlantic Quarterly, which dates back to the Trinity College days, and American Literature, "which promoted American writing when many scholars questioned whether it constituted literature," remain lively. Duke faculty members edit both.
Other journals such as Novel and Hispanic American Historical Review -- also both edited by Duke faculty members -- continue to strengthen the Press' position in different fields of scholarship. The Duke Mathematical Journal and other offerings have extended the Press into the sciences.  The Press also publishes the noted general interest magazine Tikkun, edited by Michael Lerner.
"Journals hold up more than half of the budget," Wissoker says. "Duke Press can break even, but if we had to base it solely on books, we couldn't do it."
Duke Press' intellectual interests are symbiotic to but independent from those of the university
A significant number of Duke faculty published with Duke University Press before joining the university faculty, and some areas of the Press' interest, such as Asian studies, existed prior to the university expanding its efforts in that area.
"Our job is to be as excellent as possible and to show intellectual leadership in the academy as an exemplar of what Duke means.  In '50s and '60s, you saw presses publishing a lot of things like "Harvard Studies of Harvard," where the 'Old Boy' network dominated publication decisions.  Starting in the late '60s, presses had more freedom to become semi-independent intellectual arbitrators and curators of intellectual trends without just reflecting what the university does."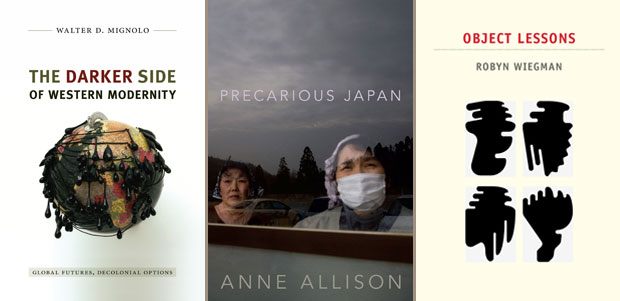 Three recent Duke University Press publications by Duke faculty members: Walter Mignolo, Anne Allison and Robyn Wiegman 
One thing you may not know about Duke University Press
Duke University Press has published a series of popular music books, including autobiographies of jazz and funk musicians. A new biography of legendary Nigerian drummer Tony Allen, who is most closely associated with popular Afrobeat composer/musician Fela Kuti, is just the latest example. 
Previously, the press published the memoirs of jazz musician Randy Weston, Fred Wesley (sideman to James Brown and P-Funk) and others. Wissoker notes these popular books often have an academic connection -- the Allen biography is co-written with a musician who is also a Yale professor -- and the stories reach beyond the music to reflect larger social and economic issues.
"We just published 'Roll With It,' a book on New Orleans brass bands. One of the bands had lost half of its members in shootings or other kinds of urban violence.  So on one hand it's a traditional look at music, but it also is associated with issues of poverty, economic insecurity and urban violence. 
"I see this as a different form of intellectual thinking and one that fits with our list.  Some presses have trade book for the general public that may not have something to do with people in the academic field. These books are thoughtful but not strictly academic. Our work for the public has tended to be more tied to the academic concerns on our list."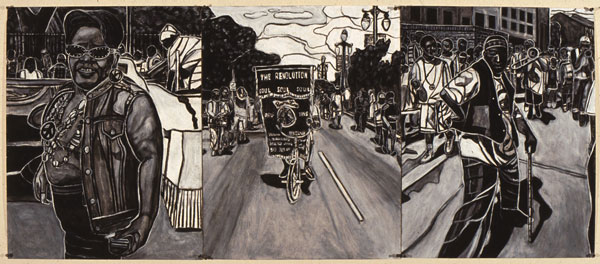 The Revolution Got Soul, Soul (3 pieces). 2004. 25" x 60". Copyright Willie Birch. From "Roll With It."