Teamwork and Diversity Award Winners Honored
President Brodhead recognizes employees for accomplishments
When a library patron requests a book or journal article from the off-site Duke Library Service Center, it takes a cherry-picker and coordinated team effort to retrieve and deliver the item.
The nine-person unit responsible for deliveries from the Library Service Center received a Teamwork Award at the 2013 Blue Ribbon Awards recognition luncheon Tuesday for  excellent coordination and commitment to customer service.
President Richard H. Brodhead and other senior administrators hosted the lunch at the Doris Duke Center at the Sarah P. Duke Gardens to congratulate the Library Service Center team and three other groups that received Blue Ribbon Awards for accomplishments and dedication to teamwork and diversity, two of Duke's guiding principles.
Four senior administrators from the Pratt School of Engineering and the Diversity Leadership Team at Duke Raleigh Hospital received the Diversity Awards.
The Teamwork Award for Duke University Health System was awarded to Duke Health Technology Solutions for its part in the implementation of the new Maestro Care electronic health record.
"Each year, the arrival of this event is very meaningful to me because it is a time to stop and think about fundamental values at Duke," Brodhead said. "We have people here from the hospitals, from engineering, from information technology and from libraries. What fun to think of all these different parts adding up to a university, and to know that the success of our university is due to the way they live up to and exemplify the values we honor."
Teamwork Awards
Cherry Picking Books and Articles
The Library Service Center is a state-of-the-art off-campus facility with about 3 million books, journals and other items from the Duke Libraries. Patrons can request an item online, which begins a carefully orchestrated retrieval process. First, a team member finds the item in the inventory. Another team member is sent on a cherry picker into the 50-degree warehouse to  pull the item from the 30-foot-tall stacks. Other employees scan the item, if necessary, or put in a van for the twice daily deliveries around campus.
In fiscal year 2013, the Library Service Center team, managed by Marvin Tillman, processed more than 540,000 items, maintaining excellent customer service despite disruptions of construction at the warehouse and influx of thousands of items in preparation for the Rubenstein Library renovation on West Campus.
"I am extremely fortunate to have Marvin Tillman and his team as part of my Division," said nominator Deborah Jakubs, vice provost for Library Affairs. "They serve as standard-bearers for Duke's Guiding Principle of Teamwork and have earned the respect and gratitude from all they serve."
Team members are Marvin Tillman, Earl Alston, Michelle S. Bowditch, R. David Beal, Andre Crooke, Patrick Daniels, Dexter McCrea, Emmanuel Senga and Daniel J. Walker.
Maestro Care Conductors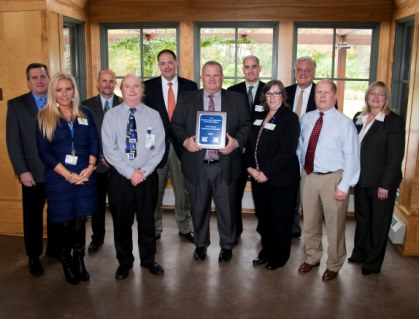 Greg Smith holds the Teamwork Award plaque given to the Duke Health Technology Solutions team to honor their work in the implementation of Maestro Care, Duke's new electronic health records system. They are joined here by William Fulkerson, executive vice president of Duke University Health System, at the far right of the back row.
During 2013, Duke Medicine introduced Maestro Care, a new electronic health records system, to Duke University Hospital, hospital-based clinics and the Patient Revenue Management Organization. This  system replaces 100 electronic applications and offers a unified health record no matter where a patient receives care from Duke Medicine. The Maestro Care project, the biggest  of its kind at Duke, involved thousands of employees across Duke Medicine and hundreds of subprojects backed by dozens of teams from Duke Health Technology Solutions, who manage information technology for Duke Medicine.
Dan Bruno, chief operations officer for Duke Health Technology Solutions, said the success of the effort is a testament to the work and  dedication of the  staff. The staff, he added, was motivated and coordinated by an exceptional group of directors and managers.  This smaller team focused and coordinated the work of teams managing device support, service desk, project management, technology infrastructure and interfaces, ancillary integration, training and reporting.
"This strong group of managers provided the coordination that helped us keep on track and get across the finish line," Bruno wrote in his nomination.
Team members  are Lisa Berry-Setliff, Victor Collins, Kathryn Lytle, Matt Marchione, Leland Myers, Matthew Roman, Greg Smith, Steve Wilfong, Peter Woods, La Donna Worrell.
Diversity Awards
Changing the Face of Engineering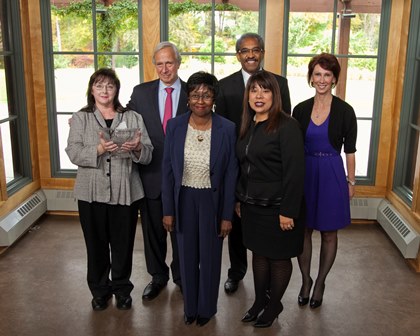 Four senior members of the Pratt School of Engineering administrative team received the University Diversity award for their success in attracting and retaining women and underrepresented minorities in engineering. They are joined here by President Richard H. Brodhead and Benjamin Reese, Jr., vice president for Institutional Equity.
Martha Absher, Marnie Rhoads, Connie Simmons and Lupita Temiquel-McMillian, all associate or assistant deans at the Pratt School of Engineering, received the Diversity Award for their success in attracting and retaining women and underrepresented minorities in engineering.
Their individual efforts have included supporting the Society of Hispanic Professional Engineers, advising students in the National Society of Black Engineers and administering a Research Experience for Undergraduate Program that serves underrepresented and physically challenged students. These leaders have also introduced new practices to improve diversity and gender balance on the school's faculty.  The school has 16 percent women and 7 percent underrepresented minorities on the faculty, above national averages.
"Through the combined efforts, initiatives and programs of these leaders, Duke and Pratt have nurtured one of the most diverse engineering faculties and most successful underrepresented minority student populations in the country," said Dean Tom Katsouleas, who nominated the women. 
Diversity Dialogues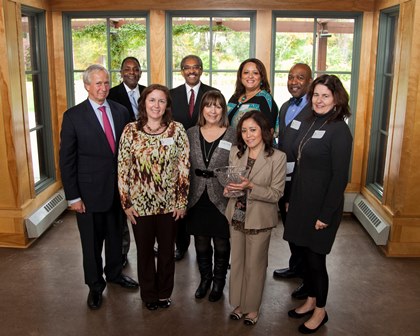 The Duke Raleigh Hospital Diversity Leadership Team received the Duke University Health System Diversity Award for their efforts to increase conversations about diversity. Joining them for the photo are, from left in the back row, President Richard H. Brodhead, and Robert Crouch and Benjamin Reese, Jr., from the Office for Institutional Equity.
Under the guidance of the Diversity Leadership Team at Duke Raleigh Hospital, dialogues about diversity have an expansive range.  The leadership team has encouraged the use of culture quizzes to encourage employees to explore new cultures, sponsored a day of service in honor of Martin Luther King, Jr., and organized education sessions on domestic violence, disabilities, Latinos and political correctness, among others.
"The accomplishments of this team are possible because as individuals they have done the inner work of diversity," wrote Rebecca Reyes, coordinator for Latino Health Services in her letter of support. "This individual commitment has grounded their efforts to provide education opportunities for their colleagues to also learn about the journey of diversity."
Team members are Jill John, Barbara Upchurch, Jenny Yu, Tyson Zlockie, Stephanie Barnes, Narda Borda, Lakisha Carroll, Dwight Coleman, Kay Green, Denise Lush, Shawn MacDuff, Karen McGowan, Diane Mitchell, Chris Muhlhammer, Nisha Patel, Laura Shuler, Hai Ly Burk and Kathy Parker