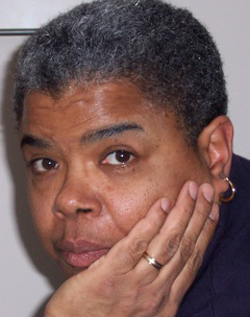 Many American and European universities offer human rights concentrations or even degrees. But human rights isn't a discipline, like history, and as an area of law or advocacy is less than a century old.
Is this more than a fad? With RightsConnect, the Duke Human Rights Center at the Franklin Humanities Institute is conducting a two-year examination of the role of rights education at the university level. Funded by a Humanities Writ Large grant, the center is bringing leading scholars and human rights practitioners to Duke to talk about their work in rights teaching and explore how Duke might craft a new human rights certificate for undergraduates.
The next speaker in the series is Professor Leslie Brown, who will talk on "Civil Rights Movements: Chronologies, Contexts, and the Classroom" at 4 p.m. Sept. 17 in the Smith Warehouse, Bay 4.
A Duke graduate and a Williams College historian, Brown has studied the role of gender and class during the civil rights era in Durham. Her book, "Upbuilding Black Durham: Gender, Class and Black Community Development in the Urban South," won the 2009 Frederick Turner Jackson Prize, awarded for the best book in U.S. history written by a first time author. From 1990-1995, Brown also worked on a research and curriculum project for the Center of Documentary Studies at Duke, co-coordinating "Behind the Veil: Documenting African American Life in the Jim Crow South."
This interview was conducted via email by Kelly Carroll, a Duke sophomore majoring in Public Policy, Carroll works at the DHRC@FHI.
Q:  Is it important for university level students to gain an education in civil rights?
Brown: It is an imperative. First because I think it is important to know the past and to know how we got to where we are now, personally, institutionally, nationally, and globally.  In a world that sees rights as a critical part of citizenship, national and global, knowing something about the topic helps us all to understand the demands of the present.  Secondly, it is important as a critique: what do we mean by civil rights?  How is that different from individual rights?  Third, I think students should be able to see themselves not just as historical inheritors but as historical actors in the ongoing struggle for rights.  In so many places, not just the U.S., it is ordinary people who create the most extraordinary change.  
Q: After having taught various classes on this topic, do you find the subject matter challenging to teach? What difficulties have you encountered while teaching these classes? What have been the rewards?
Brown: I always find this challenging to teach.  Many students come to college knowing some names and places, and not about the masses in localities across the nation, South, North and West.  So presenting the "civil rights movement" for instance, as a mass movement that emerged from the ground up presents them with new knowledge.  Secondly, many students believe that "we" have achieved what the modern civil rights movement set out to achieve.  And in many ways we have, but there is much more to do.  When I teach about civil rights, my students are able to make connections between the things they see and experience and the past. In this way they can recognize that more change needs to occur, and that they must be a part of that.  
But this is all larger than American civil rights, along of course.  I make a point of bringing in the United Nations Declaration of Human Rights, and how colonial people, oppressed peoples, and subjugated peoples used the document to seek their own freedom.  This helps me to connect American human rights struggles of the first half of the 20th century to the international human rights movement of that era and of the present.  Telling this broader story helps students to broaden their perspective.  America is not necessarily a leader in the rights struggle.  
Q: Do you think the classes you've taught on these issues have changed your students, the way they see the world, their place in it, or the people in it?
Brown: Absolutely. My students come to understand current debates: about the safety net or about the root of conflicts.  They think differently -- and often creatively -- about what is fair and what is not and how they might again contribute to change.  They think about -- and better yet act -- for determine what they want for themselves; how they might argue (as employers, for instance) for fairness for their employees.  Best of all, they think about what they want to do with their lives: teach, or go into public health and public policy.  
Not all of this is about activism.  My courses also help students to work intellectually through the issues they are presented with: how a sense of national unity can stand against a national tendency to dissent; how to read books, images, and media with a critical eye; how to write or communicate clearly and concisely; how to reach a non-academic audience; how to do their own research and thus reach their own conclusions.  They have a tendency to be more skeptical about the knowledge they have received in the past.  
Q: Do you believe taking classes on civil rights gives students the momentum to try and make a difference? If so, in what way, or have you seen examples of this momentum in your students?
Brown: Again, these classes matter.  As I noted above, I have had many students go on to teach, to do Teach for America, and then stay in education.  I have students who go in to do research in the sciences or on to medical school, but focus their energies on public health issues; I've had students who have traveled and continues to travel doing work the NGOs or doing access and policy work at home and abroad.  Some go into law and take up environmentalism, or civil rights and human rights law. Others are consulting on educational access.  I have a few who have started their own schools, others who are principals of schools.  One student that I think of often started a catering business, but then moved into working with people who have been released from prison, and from there has gone into social service work doing hands on programs around nutrition and self-care for impoverished populations in Los Angeles.  And many are still searching for a sense of satisfaction: how can they contribute and not just benefit from the value of their educations.  This is the part of the work that i love, of course, seeing my students grow into the people they did not thing they could or would be, thinking and doing creative things.  
Q: Do you think a concentration in human rights or civil rights could affect the university in a positive way?
Brown: Yes.  The fact that a university has a human rights program makes the topic itself important, not just politically but also intellectually.  Such a program presents different perspectives on problem solving, attaches itself to the world beyond the campus, bring new materials for study to bear on students lives. Its programming reaches out beyond those enrolled in the program itself and makes the issue a part of the university's conversation, just like history or economics, or biology does.  It is interdisciplinary, bringing sciences, humanities, and the social sciences together to present multiple perspectives, to demonstrate how different individuals and groups can work together -- and apart -- on common concerns.