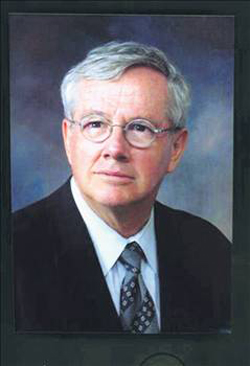 Dr. Sheldon Pinnell, a longtime Duke professor and internationally eminent scientist, dermatologist, and educator, died on July 4 after battling carcinoid cancer for almost 10 years.
Pinnell made pivotal discoveries in the understanding of the biology of collagen in the skin, demonstrating the critical role of vitamin C.  He also was a pioneer in the discovery and development of the role of topical antioxidants for the prevention of sun damage to skin, and was a founding scientist of Fibrogen, SkinCeuticals and the Skin Science Institute. He served as SkinCeuticals' chief medical advisor.
Pinnell received his undergraduate degree from Duke University and his medical degree from Yale University School of Medicine.  He spent two years as a medical resident at the University of Minnesota, followed by three years at the National Institutes of Dental Research, where he first began making seminal contributions to the understanding of how human connective tissue is produced and organized. In 1968, he became a resident in dermatology and research associate at the Massachusetts General Hospital of Harvard University School of Medicine. In 1971, after being named a Helen Hay Whitney Fellow and Herzog Fellow of the American Dermatological Association, he spent two years studying collagen chemistry at the Max Planck Institute in Munich, Germany.
Pinnell returned to Duke University in 1973 to join the medical school faculty, where he remained for his entire academic career. From 1973-1980, he was named a prestigious Howard Hughes Medical Institute Investigator. He was the J. Lamar Callaway Professor of Dermatology and Chief of Dermatology at Duke from 1982 to 1997.
A visionary leader, Pinnell developed and implemented strategic initiatives that facilitated the growth and prominence of Duke University's Division of Dermatology and culminated in the establishment in 2009 of the nationally recognized Department of Dermatology. During his tenure, he trained more than 100 residents, 22 research fellows, and left a legacy of 22 dermatologists, including seven current department chairs, residency program directors and associate department and vice chairs.
In 2013, Duke University Medical Center recognized Pinnell's distinguished career with the establishment of the Sheldon R. Pinnell Center for Investigative Dermatology. This year, he also received honorary membership into the Society of Investigative Dermatology.
Pinnell is survived by his wife, Dr. Doren Madey Pinnell; three sons, Kevin, Alden, and Tyson; and five grandchildren.
A small private family ceremony was held this week. This fall, a memorial service will be held in Duke Chapel to celebrate his life, in conjunction with the formal dedication of the Pinnell Center for Investigative Dermatology.