New Leadership for Duke Online Education
The former head of the Center for Instructional Technology will lead Duke's many ventures in online education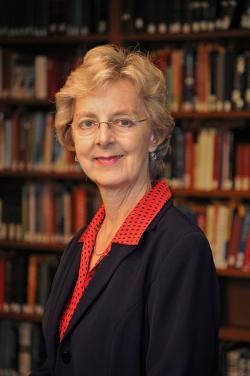 For the past year, Lynne O'Brien has spent much of her time shepherding Duke's many experiments with online education. She now has a new title to match that role.
O'Brien has been named Duke's first associate vice provost for digital and online education initiatives, a position created to streamline the university's ongoing experiments with online learning. She has left her post as director of the Center for Instructional Technology (CIT), the Perkins Library-based unit she created 14 years ago.
O'Brien's new role illustrates Duke's interest in remaining among higher education's leaders in leveraging technology to better teach students both afar and here on campus, said Provost Peter Lange.
"It's been a really good year of learning and experimentation, and we've seen the enormous value and potential as well as the challenges of online education," Lange said. "It's important to have someone highly experienced and skilled in this area."
In her new role, O'Brien will also supervise her successor at CIT, once that person is hired.
O'Brien has spent a great deal of the past year coordinating Duke's first wave of courses using Coursera, the online learning platform that helped coin the now-ubiquitous academic term "MOOC," short for "Massive Open Online Course."
But Duke isn't focusing solely on Coursera or the MOOC format. In her new role, O'Brien will help Duke and its faculty pursue new online education opportunities of all sorts.
"The whole landscape of higher education and the role of online education has been picking up speed," O'Brien said. "This is a serious commitment for Duke."
Thus far, Duke's Coursera experiment has been a success. It began last year with 11 courses featuring 13 Duke faculty members, including one, a philosophy course taught by Walter Sinnott-Armstrong, that enrolled more than 180,000 students -- more than any other Coursera offering from any other university. Duke is now developing 10 more Coursera courses.
O'Brien, who as the head of CIT routinely helped faculty members integrate technology into their classrooms, said Coursera, and online education more generally, is resonating on campus. In many cases, professors are infusing technology and teaching tools developed and used in Coursera courses into their campus classes as well.
"It has really prompted their creativity," O'Brien said. "Almost all the faculty who taught a Coursera course last year plan to do something new in their campus course this year."
That's a connection O'Brien will be expected to emphasize in her new role, said Deborah Jakubs, Duke's university librarian and vice provost for library affairs. O'Brien will report jointly to Jakubs and Lange, an arrangement created in part to maintain a strong connection between Duke's online education efforts and its traditional academics.
"One thing we've learned from Duke's recent experience with MOOCs is that online teaching and learning is most successful when it connects back to teaching innovations in the classroom here on campus," Jakubs said. "This kind of work requires close collaboration between faculty members and many different people and departments across campus. It also requires a culture of experimentation, which is something we almost take for granted here at Duke."
Coursera isn't Duke's sole online learning initiative. In November, Duke was one of nine academic institutions to receive a $50,000 grant from the Bill & Melinda Gates Foundation to develop and evaluate MOOCs on "their potential to make content and learning more accessible and affordable at web scale." Professor Denise Comer used this funding to teach English composition to more than 80,000 students worldwide.
Statistical science professor Mine Cetinkaya-Rundel has taught a data analysis course using WebEx, a teleconferencing technology, to meet with her students and help them work together. In addition to online face-to-face meetings, she has created additional online videos to help students with course materials. 
And Trinity College of Arts & Sciences has partnered with the University of Virginia on a language course swap. Starting this fall, Duke faculty will teach Creole to Virginia students using online technology, teleconferencing and other multimedia tools, and Virginia faculty will use the same tools to teach Tibetan to Duke students.
This online education revolution has not come without speed bumps. Earlier this year, the Arts & Sciences Faculty Council rejected a proposal to join Semester Online, an online education consortium that would have provided for-credit courses over the Internet for students attending member universities. In voting down the venture, faculty said they wanted more say in the process and felt the university was moving too fast on the distance education front.
O'Brien believes Duke may still participate in a for-credit online initiative at some point and looks forward to further discussions with faculty about it.
"I will definitely be working closely with faculty," she said, "because they have many ideas for ways Duke can experiment with online education for non-credit and for-credit courses."