Bargain Hunting at the Nearly New Shoppe
Thrift shop in Hock Plaza parking garage funds scholarships for medical, nursing students
A silk and cashmere sweater for $5. A Talbots mole skin dress for $1. A blue Liz Clairborne blouse for 25 cents.
These are some prices in the Nearly New Shoppe, which for 45 years has been turning gently used castoffs into another person's treasure and putting profits toward scholarships for medical and nursing students at Duke. In 2012, the store in the lowest level of the Hock Plaza parking garage hit a milestone, breaking the $1 million in scholarships for students.
"We are the ultimate in recycling," said Ginny Lang, president of the Duke University Medical Faculty Wives, the organization that owns and runs the shop. "By reselling items we keep them out of the landfill and recycle the money into scholarships."
The shop is open to the public for donations and purchases and features high-end donated items like Vietri plates and Burberry trench coats as well as everyday clothes and household goods like lamps and linens. The store is open from 10 a.m. to 5 p.m. on Monday and Friday, and 10 a.m. to 2 p.m. Tuesday through Thursday and Saturday. Purchases must be made with cash or check.
Eighteen wives of Duke medical faculty founded the store in 1968. In the first few years, the store passed along its annual profits of a few thousand dollars directly to the School of Medicine for scholarships. By the early 70s, the group created the Duke University Medical Faculty Wives Endowment to invest their profits and use the interest for scholarships. Over the past four decades, the store has moved three times and the endowment, funded by profits from the store and donor gifts, has grown to more than $4 million. A separate endowment was created in 1998 to provide scholarships for the School of Nursing.
Shopping at the Nearly New Shoppe is like going on a treasure hunt. Seven racks at the front of the store burst with women's blouses, skirts and jackets, most priced at $5 or less. Next to a window is a display of 15 wedding dresses from stores such as David's Bridal ranging from $45 to $150. Beyond the racks of men's suits, jackets, pants and polo shirts is a potpourri of household goods from cheese graters to china sets.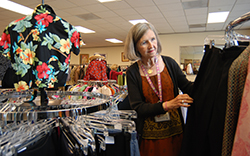 Eva Hoke, data manager for the Cancer Center Statistical Center, visits the Nearly New Shoppe at least once a week to see what new treasures have arrived.
Eva Hoke, data manager for the Cancer Center Statistical Center, visits the shop at least once a week during a lunch break to see what catches her eyes. "I seldom go in looking for something in particular, but I often find something that I know I will love," she said as she examined a handmade cross-stitched quilt for $5.
To keep items moving quickly, the Nearly New Shoppe has a strict markdown system. If an item hasn't sold in two weeks, the price is cut in half. Still on a rack one week later? The item is marked down again.
"Every Monday is markdown day," said Lang, the president of the Duke University Medical Faculty Wives who volunteers at the store. "The lowest we go is a quarter, and people love that quarter rack because they can come in with a $20 bill and leave with two or three bags of items plus change."
On a recent Monday, the quarter rack sported Coldwater Creek black stretch pants, a Banana Republic long-sleeved T-shirt, a pair of Loft cargo pants and a pink striped child's knit hoodie, among other treasures. Elsewhere in the shop, a Nicole Miller leather purse sells for $65.
"We are always amazed at what people donate," said Linda Oglesby, one of the three employees who help run the store. "The generosity of this community is amazing."
Last year, the Medical Faculty Wives Scholarship Endowment, funded by the Nearly New Shoppe, provided nearly 100 medical students and five nursing students with scholarships ranging from $5,000 to $10,000. 
"This shop is so much more than a thrift shop," Lang said. "It is nice to know that if the store had to close tomorrow, the money and the scholarships will go on and on."