Bus Service to Hospital, Research Area to Change July 29
H1 and H3 routes merge, service to Hospital circle and Research Drive altered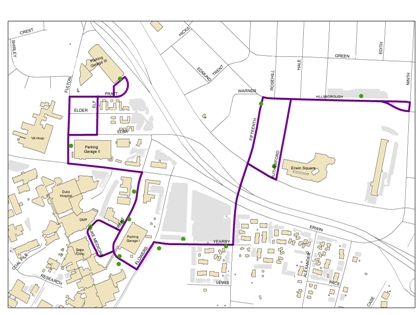 The new H2 Bus Route will begin on July 29.
Beginning July 29, Duke's H1 and H3 bus routes will merge and other routes serving Duke Hospital will be modified to provide more efficient, on-time service and reduce congestion at the entrance to Duke Hospital.
Read More
The new bus route, called the H2:Hospital Loop, will use a new bus lane and stop at the Duke Medicine Pavilion, which opens to the public July 29. The stop on Duke Medicine Circle will serve as the primary stop for the Duke Medicine campus.
"We had two bus routes that overlapped and the opening of the Duke Medicine Pavilion, with its dedicated bus lane, will allow us to combine the two to provide more efficient service and create a convenient transit hub for Medical Center staff," said Sam Veraldi, director of Duke's Parking and Transportation Services.
The new H2:Hospital Loop bus will run weekdays year round, serving  the hospital parking lots on Hillsborough Road, the Duke Medicine Pavilion and PG II and PG III. The bus will run every 12 minutes from 5:31 a.m. to 10:55 a.m., every 36 minutes from 11:31 a.m. to 2:31 p.m. and every 10 minutes from 2:41 p.m. to 8:51p.m. After 9 p.m., shuttle service will be available for hospital staff returning to remote parking lots.
As part of the H1 and H3 consolidation, the new H2:Hospital Loop will no longer stop on Erwin Road or Research Drive, including Entry 11 at the rear of Duke Clinic. These stops will continue to be served by the H6, PR1 and LaSalle Loop routes.
Also after July 29, none of the hospital bus routes, including the H5 and H6, will enter the hospital traffic circle at Erwin Road after 7 a.m.
Ken Powell, vice president for facilities and support services at Duke University Hospital and Clinics, said the bus route modifications support the Health System's values of excellence and safety.
"Our first priority is our patients, and decongesting the hospital traffic circle at Erwin Road will greatly improve access to the hospital for our patients and their loved ones," he said.  
Veraldi said the removal of Duke buses from the hospital traffic circle during core business hours will also improve on-time service for passengers.
"The circle is very busy with patients, visitors, valet parking and other vans," Veraldi said. "We've had buses stuck there for up to seven minutes, and that wreaks havoc with a bus schedule. We are delighted that the opening of the Duke Medicine Pavilion gives us a unique opportunity to reconfigure bus routes to help relieve that congestion and better serve the community."
The new bus stop at the Duke Medicine Pavilion will offer convenient access to indoor walkways to other areas of Duke Hospital and Duke Clinic, as well as access to the Duke Cancer Center, School of Nursing buildings, Searle Center and Mary Duke Biddle Trent Semans Center for Health Education. Passengers can use the new outdoor pedestrian walkway that connects Duke Medicine Circle to Research Drive.
Passengers going to Duke Hospital can disembark at the Duke Medicine Pavilion bus stop (via H2), the stop on Fulton Road near the underground walkway to Duke Hospital (via H2 and H6) or the stops on Erwin Road outside Duke Hospital and the Veterans Administration Hospital (via H5).
Duke community members are encouraged to use TransLoc to track Duke buses in real time.