Calling All Artists
Normal 0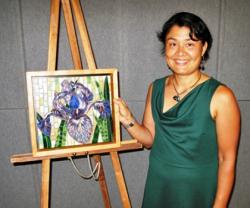 Arts & Health at Duke is accepting entries from Duke Medicine and Duke University employees and their families for the 35th Annual Duke Employee Art Show.
Read More
The first 160 entries submitted by July 31 will be featured in an exhibit in the Mars Galleries and in the new Arts & Health Galleries Hallway on the first floor of Duke Hospital from August 30 through October 1. Exhibits will also be displayed in the Eye Center Connector Gallery on the second floor of Duke Eye Center.
"It's going to be a big splash this year in celebration of our 35th year," said Sharon Swanson, Arts & Health program coordinator.
Art categories include painting, photography, sculpture, craft and other mediums. The exhibit is open to adult amateur, intermediate and professional artists as well as youth artists who are 12 and under and teens between 13 and 18 years old. The National Arts Program Foundation, which is sponsoring the exhibit in cooperation with Arts & Health at Duke, is designed to give all artists, at all skill levels, an opportunity to exhibit their work in a professional manner.
There is no entry fee, and first, second and third place winners in the age groups will be eligible for prizes ranging from $25 to $300.
"The artworks that we've collected in the past, makes one think of the miracle of creation," said Sam Morrison, Arts & Health visual arts coordinator. "The taking of a handful of disconnected raw materials and fashioning them into a wonderfully connected whole, that is what these Duke employees and family members have done."
Participants must be faculty, staff, volunteer, retiree, or an immediate family member of an employee of Duke Medicine or Duke University. All entries submitted must be the original work by the applicant completed within the last three years. Kits, paint-by-number pieces, photocopies or photographs of artwork; magazine or book illustrations and random snapshots are not eligible.
Tanya Schreiber, program coordinator at Duke Institute for Brain Sciences, said, "It's fun to see what artistic pursuits other Duke employees are up to outside of working hours."
Last year, Schreiber submitted a stained-glass mosaic panel to express her interpretation of a photograph of an iris.
"I decided to participate because, well, why not?  There was no entry fee, my piece was already framed and ready to go," Schreiber said. "It was a chance to submit a piece and see how it would stack up against the pool of artwork by Duke's multi-talented staff."
Schreiber received an Honorable Mention award and was recently invited by Morrison, Arts & Health visual arts coordinator, to do a solo show in the corridor gallery where she displayed 23 pieces of works for five weeks.