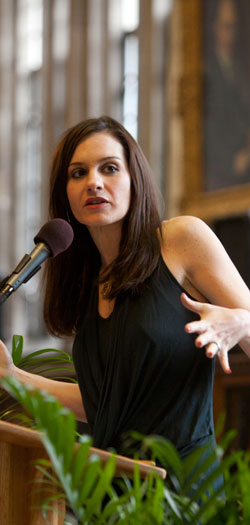 During an April forum, humanities faculty shared ideas on how to increase the profile of their disciplines to current and prospective students -- and to their parents who want to ensure their child's employment post-graduation.
What can you do with a degree in the humanities?, the parents often ask.
Plenty, say Duke's humanities faculty, with some of those at the forum saying they need to play a more active role in promoting the value of their discipline to undecided undergraduates and their families.
At the forum, several faculty members offered a range of ideas, most of which involved engaging with Duke offices such as admissions, alumni affairs and development.
These and other offices on campus have made efforts in recent years to attract students to humanities research, and to highlight the field's value in the career market. 
"The fact is, many of the things we do provide skills that make people employable. What skills do hedge fund managers need? They need to write well, think critically and logically, and speak well in meetings. These skills are indeed highly prized," said Michael Valdez Moses, an English professor who attended the forum.
There are already efforts underway. Alumni Affairs is a co-sponsor, along with Duke Arts, of the annual Duke Entertainment, Media and the Arts Network (DEMAN) weekend which brings successful alumni in the arts and media profession to campus to inspire undergraduates and share advice.
"We love to partner with faculty," said Sterly Wilder, the director of Duke's Alumni Affairs.
"We need to create a stronger way for alums to connect with current students in meaningful ways to discuss career and life choices. We're really interested in matching people by majors or careers. There are so many alums who are looking for ways to engage with undergraduates."
Wilder said DEMAN weekend could serve as a model for a humanities-themed alumni program.
Such a program would be welcome. Michael Swacha, a literature graduate student who spoke at the forum, suggested more interaction with successful alumni to ease job anxiety.
"So many think that with a humanities major you won't get a job. I think the way to convey to incoming students that this is not the case is to appeal to alumni to tell their stories and pass on narratives about how they enjoyed their humanist education and how it didn't put them at a disadvantage," he said.
Like Wilder, Christoph Guttentag, the dean of undergraduate admissions, also works regularly with faculty to encourage prospective students to choose Duke. Admission officers regularly promote Duke's humanities disciplines.
And while some faculty worry that the value of the humanities is decreasing, enrollment in humanities disciplines has remained essentially flat over the last 10 years or so.
"From the undergraduate perspective majoring in the humanities is quite robust and has been steady for a decade," said Lee Baker, the dean of academic affairs for Trinity College. "Students are invited, and participate routinely and regularly in the humanities."
Baker says of the 34 classes undergraduates must take, about eight of the requirements are in the humanities, even for non-majors. "The core of the curriculum is bolstered by the humanities," Baker said.
Thomas Pfau in the German and literature departments suggested emphasizing the importance of the humanities to a new cohort of students each year or else "we risk preaching to the choir."
He and others praised FOCUS, a program for first-year students that provides a cluster of theme-based courses. Sarah Beckwith, a theater studies professor, also praised the program but said she felt "we need to do something more wide-reaching" and suggested a "gateway course" to prepare humanities majors.
Guttentag said many prospective students are interested in pursuing the humanities.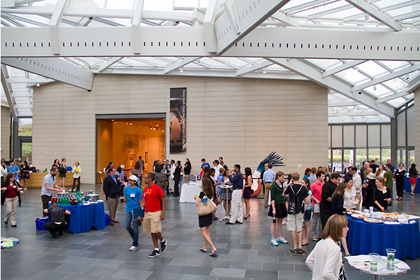 A 2012 Blue Devil Days event in the Nasher.  Duke uses Blue Devil Days as a means of introducing the humanities and the other disciplines to incoming students.
On the first night of Blue Devil Days, a program for newly admitted students, Duke Arts organizes a reception at the Nasher Museum of Art specifically for prospective students interested in the arts and humanities. They engage directly with faculty from the various departments.
"As someone who had a double major in the humanities -- in music history and philosophy -- I appreciate the value of the humanities," Guttentag said. "Our office also understands the importance of a diverse set of academic interests within the student body."
Guttentag said the admissions office has also made the "academic interest" portion of its application more prominent so the committee can more easily consider that information when discussing candidates.
Additionally, he said that he has shared lists of admitted students interested in a particular field -- literature, for example -- with the appropriate departments so faculty there can help answer student questions and encourage them to attend Duke.
"In the past we've also had faculty members come and talk with admissions staff about their disciplines, and we are always happy to have that happen again," Guttentag said. "We would also be delighted to have faculty members encourage students in their departments to be tour guides and overnight hosts for visiting students. There are no better representatives of humanities education at Duke than the faculty and undergraduate students."