Career Tools: Connecting with Peer Groups
Sharing knowledge with others in similar jobs at Duke creates opportunities, efficiencies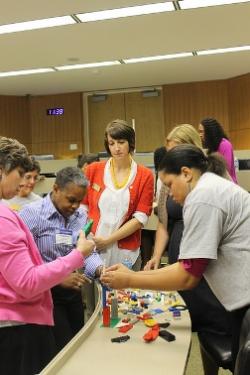 Whitney Murphy turned to her peer professional group at Duke when she needed to plan a behind-the-scenes tour of an event production facility.
A program manager in Duke's Office of Continuing Studies, Murphy is a member of Duke's Special Event Planners Council, a network of employees whose jobs involve planning and catering for events and meetings across campus. Through the council's connections, she arranged a tour of a Raleigh company for students in one of the Continuing Studies certificate programs.
"It was great to be able to use the knowledge of the group to help with my own job," Murphy said.
The Special Event Planners Council is an example of a peer network across Duke that encourages employees to pool their knowledge to get excellent results. Other groups include career center staff, Duke communicators and research administrators. Peer networks offer opportunities to share how new trends affect Duke and how to tackle challenges and foster collaboration across schools and units.   
"Part of professional development is about looking objectively at your work, and a peer group can often help you see things from a different perspective," said Sally Allison, assistant director of recruitment and manager of Duke's Professional Development Institute. "In addition, they are often an excellent resource about how Duke works."
In addition to providing fresh ideas and fostering collaboration, peer networks offer the opportunity for Duke-specific professional development. For example, staff from across Duke who offer career advice to students gather each May for "OneDuke." The annual program is planned by staff from career centers at Duke's schools.
Last year, 88 participants shared insights on topics such as "Expanding Your Comfort Zone," "Emotional Intelligence" and "Dynamic Followership." Jacqueline Looney, senior associate dean for graduate programs, recalled the insight she gained from an interactive exercise. Teams of employees competed to construct the tallest tower with the fewest Lego blocks. Each team had to choose a leader, a block counter and determine how best to get input from each person.
"It was a treat," Looney said. "It was a fun opportunity to reflect on how we ask for and respond to input from others we need to work with."
Anne Lyford, associate director of external relations for the Duke University Career Center, also attended the event. She said spending time with staff from other career centers across the university has made it easier to provide customer service to recruiters who come to campus to talk with Duke students.
"Employers really like it when we can make a personal introduction on their behalf to a colleague in other career centers," she said. "It helps them build an effective recruiting strategy across Duke."
The key to the success of peer networks such as the OneDuke group is the desire of employees to learn from others, said Bill Wright-Swadel, executive director for Career Services at Duke. 
"Some schools try and force collaboration from the top down, but with OneDuke, we've created good faith, collaborative efforts born out of a desire to do a better job for the community and for our students," he said. "Folks at Duke understand the value of collaboration."