Bill Adair, PolitiFact Editor, Named Knight Professor at Duke
Adair will begin his appointment July 1 as the Knight Professor of Computational Journalism at Duke's Sanford School of Public Policy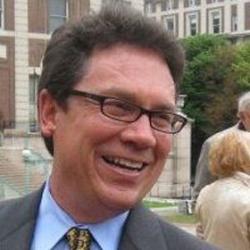 Bill Adair, creator and editor of PolitiFact, the Pulitzer Prize-winning website of the Tampa Bay Times, has been appointed the Knight Professor of Computational Journalism at Duke University's Sanford School of Public Policy.
"Bill Adair is a terrific hire for Sanford and Duke, and he follows a long line of endowed chairs in communications, including David Broder, Alex Jones, Susan Tifft, Bill Raspberry, Sarah Cohen and Phil Bennett," said Bruce Kuniholm, dean of the Sanford School. "His track record demonstrates his capacity to develop a vision of how good journalism can survive and continue to play the crucial role it does in crafting public policy. He has a spirit of engagement that will make him extraordinarily likeable and effective as a teacher and mentor to students."
"I think he'll be an outstanding Knight chair," added professor James T. Hamilton, director of Duke's Dewitt Wallace Center for Media and Democracy, who led the search committee. "I believe that he'll develop tools, including more mobile apps, that will help journalists discover stories, and readers find them, in ways that make accountability journalism more likely to survive."
Adair, 51, will join the faculty July 1 as a professor of the practice of journalism and public policy. He said he is "excited about this wonderful opportunity and very honored to have been selected."
"Bill is a digital journalist with the courage to set audacious goals and take big risks," said Eric Newton, senior adviser to the president at the John S. and James L. Knight Foundation, which funded the chair endowment. "He understands the urgent need to try new things, learn, and try again."
Launched by the Times in 2007, PolitiFact quickly became a go-to source for assessing the accuracy of politicians' claims during the 2008 campaign. Its distinctive Truth-O-Meter rates officials' public statements on a scale ranging from "True" to "Pants On Fire" -- "not just false, but ridiculously false," Adair said. Two years after its creation, the site won the 2009 Pulitzer Prize for National Reporting. PolitiFact also has affiliates in 10 states and a partnership with Hearst Television, and has inspired fact-checking sites in France, Norway and Sweden, among other countries.
In addition, Adair oversaw the creation of mobile iPhone/Android apps for fact-checking, including "Settle It! PolitiFact's Argument Ender," which was developed with support from the John S. and James L. Knight Foundation. The position at Duke will allow him to continue developing similar projects, Hamilton said.
Adair began as the newspaper's Washington bureau chief in 2004, having been a Washington reporter covering national politics, Congress, presidential campaigns, the Florida delegation and aviation safety since 1997. Previously he covered the airline industry, politics, and local and national transportation for the paper in the Tampa Bay area. In 2002, he published "The Mystery of Flight 427: Inside a Crash Investigation," about the crash of a US Air plane near Pittsburgh.
In addition to the Pulitzer, PolitiFact has won the Knight-Batten Award for Innovations in Journalism (in 2008 and 2009). Adair has won the Manship Prize for New Media in Democratic Discourse and the Everett Dirksen Award for Distinguished Coverage of Congress.
He is also an adjunct faculty member at the Poynter Institute in St. Petersburg, Fla. He will remain a contributing editor at PolitiFact.
At Duke, Adair plans to explore and experiment with new forms of journalism and reinventing the news for the digital age. Media have for the most part taken old forms and "pasted them into pixels," Adair said. Instead, "I'd like to continue experimenting with things that really take the power of the web and mobile devices in presenting information in new ways."
Adair will teach two courses in the fall, including a required course in the Media Policy Certificate program, "News as Moral Battleground," in which he will focus on plagiarism, fabrication and off-the record sourcing in news. The other, a new course, will concern the White House and the presidency in a new media age.
The Knight Chair at Duke was established in 1990 by a gift from the Knight Foundation, which has established two dozen endowed chairs in journalism at top universities nationwide to teach innovative classes, create experimental projects and new programs and help lead journalism excellence in the digital age.
Adair follows Sarah Cohen, a Pulitzer Prize-winning Washington Postreporter and expert on computer-assisted investigative journalism, in the Knight Chair at Duke. While at Duke (2009-12), Cohen led the creation of the Reporters' Lab, an online forum for journalism innovation.