Department Spotlight: Center for Medieval and Renaissance Studies
Oldest campus interdisciplinary group teaches about medieval and early modern past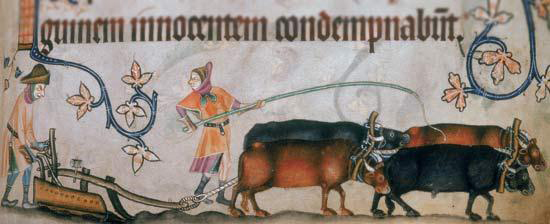 This image of plowmen working a field is from a 14th-century manuscript depicting everyday life among people of that time. It's one of many sources used for study within the Center for Medieval and Renaissance Studies.
Department: Center for Medieval and Renaissance Studies
Years at Duke: Michael Cornett, program coordinator for the center, noted it's the oldest interdisciplinary group on campus, having been around between 50 and 60 years.
Valeria Finucci, director
Number of employees: 2. Cornett and the center's director, Valeria Finucci, professor of Italian studies and theater studies.
Who they are: As an interdisciplinary group, the Center for Medieval and Renaissance Studies features about 40 faculty from 10 different academic departments across Duke, including Religion, History, Art, Art History & Visual Studies and more. The program offers a major and minor track of study for undergraduates and a certificate program for graduate students. Courses cover material from 500 to 1700.
What they're known for: Driving conversation and research about medieval and early modern times. Cornett said the Triangle hosts slightly more than 300 faculty and researchers who study the field from Duke, University of North Carolina-Chapel Hill and North Carolina State University. Duke's program hosts workshops, conferences and colloquiums covering a breadth of topics, from the marginalized cultural groups of medieval times to poetry or historical figures like Niccolo Machiavelli.
What they can do for you: A full list of ongoing events can be found on the Center's website, which includes talks and performances on Duke's campuses as well as others. All activities are open to Duke community members.
Hidden department fact: Each year, about 1,000 Duke students take a class through the Center for Medieval and Renaissance Studies, which offers 25 to 30 courses at Duke every semester. Cornett noted that many undergraduate students who double major with the program often have an interest in attending medical school.
"I think it's because our courses range across so many different fields, students can satisfy general college requirements while taking courses in our program," Cornett said. "Students almost unanimously tell me that in medical school interviews they're asked about their Medieval and Renaissance Studies major more than anything else because it distinguishes them."
Significant achievement: "About 80 percent of our majors are involved in honors work at Duke," Cornett said. "We also offer a lot of research opportunities for undergraduate students, which I think helps attract many of the brightest Duke students who are interested in hands-on research to our program."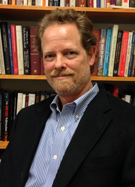 Michael Cornett, program coordinator
Big goal: Since the Center for Medieval and Renaissance Studies has a small physical presence on campus - an office in Trent Drive Hall - Cornett said the program takes extra steps to expand its outreach, for example, through symposia on campus jointly sponsored by the Center and the Journal of Medieval and Early Modern Studies. Published three times a year by Duke University Press, the journal includes a variety of scholarly work covering topics like English theater, religion, the work of Shakespeare and more.
How they make a difference: "Throughout our work with students, publications, research and events, we're creating new knowledge about the past and trying to better understand where we have come from," Cornett said. "It's just fascinating to study, and our understanding of the past is closely linked to the way we live our lives today. It helps us appreciate how our present has been defined by differences from the past but also by similarities."