In life, Matthew Davis was kind of a jerk. A human resources manager for a big corporation, he reveled in abusing his power and ripping his underlings.
And yet in death, Davis was a compelling enough figure to warrant a true, 21st century sendoff -- a Facebook page in his honor.
"I thought it would be fun to canonize the guy," said Reed Gaines, the Vassar College undergraduate who created the RIP Matthew Davis page. "He wasn't exactly the best guy, so I wanted to sarcastically act like he was 'The Man,' at least in death."
Before you get confused: Davis wasn't a real person. He was a character in an alternate reality game created at Duke's Greater Than Games lab. The game is a real-time exercise that ran for a good chunk of the fall semester. Gaines and classmates enrolled in a digital arts course at Vassar played along with students at Duke, the University of Chicago and elsewhere.
That Gaines saw the dead cyber-character as worthy of a eulogy is a win for the Greater than Games lab, which has high hopes for the game, Specula1ion. Based on the 2008 economic collapse, the game creates a futuristic economic doomsday scenario in which a coalition of banks rule the world and a resistance movement rises up to challenge it.
It's no mindless shoot-'em-up video game. Rather, it's a rigorous intellectual exercise comprised of eight stages, each with a series of puzzles to solve and passwords to obtain. At one stage, for example, you trade stocks and must hit a profit target in order to move to the next level. At another, you must translate the Latin mottos on obsolete currency. To do well, players must know a little about everything from economics and current events to HTML coding and the intricacies of downloading specialized computer software.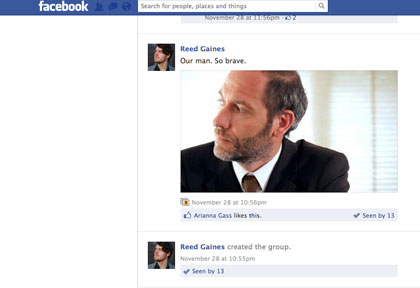 The Facebook RIP page for Speculat1on character Matthew Davis.
The game's creators used the fall semester to troubleshoot the game, improving it through feedback from students as well as by monitoring the game's players to see how they react as they maneuver through the game's many layers. Five independent study students at Duke were enlisted to look for holes to exploit.
"They were hacking it like crazy," said Duke literature professor Katherine Hayles, one of the game's creators. "As a result the game has been extensively redesigned."
One key improvement: Far more fully developed characters like the immortalized Davis and others. The game's designers realized players wanted a deeper connection with the personalities within the game and not just with the puzzles they were asked to solve, said Patrick LeMieux, a Duke doctoral student and researcher with the Greater Than Games Lab.
"We wanted characters in the game that were dynamic, that changed throughout the story, that had conflicts to resolve," Lemieux said. "So we watched to see what players thought was stupid, what was cool, what they weren't interested in. The silence of the players is often as telling as what they say."
Speculat1on's creators hope it becomes part of this games lab's legacy. One of three humanities labs housed within Duke's Franklin Humanities Institute, Greater Than Games brings faculty and students together from disciplines as disparate as computer science, classics, literature, information science and information studies, and art, art history and visual studies. The lab builds socially constructive games that combine real and virtual components through storytelling, art, technology, gameplay and design. The goal of all three labs, faculty members say, is for faculty, graduate and undergraduate students to collaborate on real-world problems.
In Speculat1on, lab faculty believe they have a product with staying power -- an unusual quality for alternate reality games, which are generally played once through a collective effort by online players. The Duke lab has created a game with features that can be tweaked and updated so it can be played over and over; its creators say they've built a public textbook of sorts, a game other universities can use when teaching their own courses in game design.
"There's a whole community out there dedicated to playing alternate reality games," Hayles said. "Now, anybody teaching a computer games course can have their students play this game."
Speculat1on.net from Speculation on Vimeo.