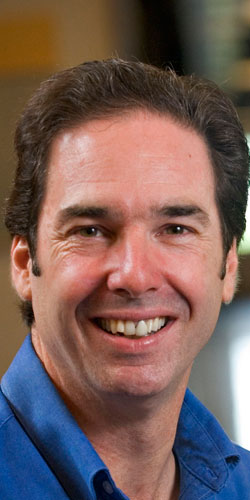 At first, Jeffrey McDonnell hoped to become an exploration geologist -- one of those brave souls digging up mineral deposits on a frigid, far-away tundra.
But a single summer spent in the Canadian Yukon as an undergraduate convinced McDonnell he wasn't cut out for the rugged life of a mountain man-scientist.
"I had so many grizzly bear encounters, I came back and changed my major," McDonnell recounted recently. "And I thought I was a real outdoorsman! So what do I change my major to? Well, water seemed a civilized topic. You can study that in cities."
McDonnell turned his attention to water science and more than two decades later is one of North America's most well-regarded hydrologists, addressing critical issues such as how climate change may affect water supplies around the world. Currently a faculty member at the Global Institute for Water Security at the University of Saskatchewan and Distinguished Professor at the University of Aberdeen and Oregon State University, McDonnell will spend the first three months of 2013 at Duke and UNC-Chapel Hill as the Nannerl Keohane Distinguished Visiting Professor.
The professorship was created in 2004 by then-UNC-CH Chancellor James Moeser to honor Keohane, who was stepping down as Duke's president. It seeks to spark collaboration between the two universities, a mission McDonnell has embraced.
"We're trying to bring together the enormous expertise that exists on the two campuses and get people talking and interacting more," he said. "There's a real critical mass in terms of the science of hydrology and all the expertise that goes along with it. You have some exceptional people in these different areas."
McDonnell's professorship runs from January through March. He'll work primarily from UNC's Institute for the Environment in Chapel Hill, but expects to spend at least one day a week at Duke working with colleagues at the Nicholas School of the Environment and elsewhere. "Professor McDonnell is an outstanding scholar and recognized leader in the fields of watershed hydrology and ecohydrology, with a well-deserved reputation for an innovative and entrepreneurial approach to developing collaborations," said Noah Pickus, director of Duke's Kenan Institute for Ethics and co-chair of the committee that selected McDonnell. "His visit coincides with UNC's two-year focus on water and connects directly with ongoing research, education and outreach related to the study of water at Duke."
McDonnell's visit is particularly timely at UNC given the campus-wide focus on water on that campus, said Carol Tresolini, UNC's vice provost for academic initiatives and co-chair of the Keohane professorship selection committee.
"Professor McDonnell's visit this year will add a wonderful dimension to our efforts to address 'Water in Our World,' which mobilizes the university around a common issue of great significance to our global community," she said. Among the highlights of McDonnell's visit: On Jan. 16, he'll give a public lecture exploring the water cycle, and in mid-February he'll help lead, with Lawrence Band from UNC, a two-day workshop focusing on underground water flow networks.
The Jan. 16 lecture starts at 5:30 p.m. in the Nelson Mandela Auditorium in the FedEx Global Education Center on the UNC campus.
 Water -- where it goes, how it's used and why it's becoming scarce -- is an issue of increasing public interest, McDonnell said. "Around the world and in the U.S. as well, we're starting to face issues of water scarcity that we haven't in the past," he said. "We've been thrown a curve ball by climate change and land use change. Rather than a predictable snow build-up and melt in the key parts of the U.S., snow is disappearing at lower elevations and it's altering our strategies for capturing water in reservoirs and predicting how much water we have in any part of the year."
The Keohane Professorship recognizes the contributions of Nannerl Keohane during her term as Duke's president and the close collaboration she established with former UNC Chancellor James Moeser. It is funded by UNC-CH graduate Julian Robertson and his wife, Josie, and by the William R. Kenan, Jr. Charitable Trust.
The program also provides $1,000 to each of two graduate students -- one each from Duke and UNC -- who work in the same area as the visiting professor.
The next Keohane visiting professor will be David Pizarro, a research psychologist at Cornell. He'll take part in the program in the Spring 2014 semester. Nominations for future participants in the program will be accepted beginning in early January through the provost websites at the two institutions.