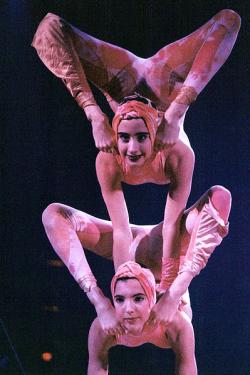 From its roots in Quebec street performances, Cirque du Soleil has grown into an international phenomenon that rates as one of Canada's chief exports.
Here, Jane Moss, director of Duke's Center for Canadian Studies, who is teaching a class on French Canadian theater and film this semester, discusses the high-flying artistic circus and its relationship with French-speaking Quebec.
So what do Quebec residents think of all the success of this strange and amazing product that emerged from there?
Quebecois have observed the spectacular success of Cirque du Soleil with amazement and pride. The original founders were counter-culture street performers who in 1984 convinced the Quebec government to subsidize their new company's touring show in celebration of the 450th anniversary of Jacques Carter's "discovery" of Canada. But while until fairly recently Quebec theater and cinema remained focused on "performing the nation," -- that is representing the history and culture of Canada's distinctively different French-speaking province -- Cirque du Soleil quickly developed a transnational art form that outgrew its provincial origins.
Is it fair to say Cirque du Soleil is one of Quebec's chief exports?
Government subsidies ended in 1992 and today the Cirque is a billion-dollar enterprise and (along with Celine Dion and maple syrup) Quebec's best-known export. Over a hundred million people have seen some of the dozens of Cirque shows performed around the world and in permanent performance spaces in Canada and the U.S.
Those who cannot afford the high-ticket prices might have seen Cirque du Soleil performers at the 2012 Oscars or on screen.  In December 2012, Cirque released its most recent theatrical product, Worlds Away, a 3-D film produced by James Cameron.
How does Cirque differ from other art created in Quebec?
Whereas Quebec playwrights and filmmakers were provoking reflections on political and social issues relevant to provincial audiences, Guy Laliberte and the Cirque adopted a decidedly post-nationalist and universalist strategy. Cirque features performers from all over the world and erases the language barrier by forgoing dialogue. Except for the shows based on the music of the Beatles, Elvis, and Michael Jackson, the original scores are new-age music without words that can appeal to any spectator.
Do the folks in Quebec have mixed emotions about Cirque achieving so much international success?
Quebecois are, as I said, proud of Le Cirque du Soleil for its artistic and commercial success on the world stage, but the pride is tinged with regret that this postmodern form of circus performance has more or less lost touch with its origins. While early in its history the Cirque created opportunities for Quebec theater directors and professionals to realize their visions with big budget, big arena spectacles, today's Cirque du Soleil seeks internationally known producers and directors to create shows with multiethnic performers. The headquarters are still in Montreal, but the Cirque du Soleil is now a post-Quebecois phenomenon.