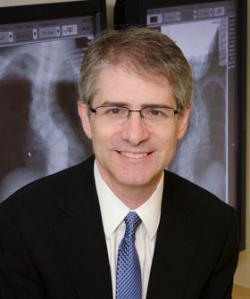 Dr. Benjamin A. Alman, A.J. Latner Professor and chair of Orthopaedics at the University of Toronto, will become chair of the Department of Orthopaedic Surgery, Dr. Nancy Andrews, dean of the School of Medicine, announced this week. Alman will assume his new role in June.
Alman currently serves as a senior scientist in the Research Institute's Developmental and Stem Cell Biology Program at The Hospital for Sick Children in Toronto, where he has been on faculty for the past 16 years. He is also vice chair of research in the Department of Surgery and interim director of the Toronto Musculoskeletal Centre at the University of Toronto.
Alman is "the ideal leader for our orthopaedic surgery department, one of the country's most esteemed programs," Andrews said. "In his new role, he will lead a respected team of more than 60 clinical and research faculty and 55 residents and fellows committed to advancing scientific discovery and enhancing patient care."
His clinical practice focuses on the care of children with syndromes, spinal deformity, neuromuscular disorders, and tumors involving the bones, joints and soft tissues. He also runs an active basic science research program, studying the role of developmental signaling pathways in musculoskeletal tumors and reparative processes.
That research has brought Alman numerous awards, including the J. Edouard Sampson Award for outstanding research, the Arthur H. Heune Award for outstanding contributions in pediatric orthopaedics, and most recently the Lodwick Award for the best publication in the musculoskeletal field and the Charles Tator Surgeon-Scientist Mentoring Award.
Dr. David Attarian will serve as interim chair of the department until June.