On a sunny fall day, 25 members of Duke's track team spent several hours teaching third- through fifth-graders at C.C. Spaulding Elementary School the art of the shot put, javelin, pole vault and other track and field sports.
But the visit wasn't all about fun and games. The goal is to build trust among students and ultimately improve lives at the high-poverty Durham school.
Spaulding has some of the lowest reading, math and science scores in the school district. Only 43 percent of third-graders read at grade level this year; the statewide average is 69 percent. Around 97 percent of students at C.C. Spaulding receive free or reduced meals. 
"For many of our students, they have a lot going on in their personal lives and to have Duke University students pay them some attention, I can't even put it into words how much it means to them," Principal Kecia Rogers says.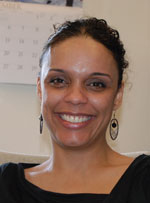 Makeba Wilbourn
Makeba Wilbourn, assistant professor in the Department of Psychology & Neuroscience, has proposed a way to close the achievement gap at Spaulding.
Partnering with Spaulding, Wilbourn has applied for a grant from the National Science Foundation to incorporate new teaching methods at Spaulding. She expects a decision early next year.
Wilbourn says research has shown that improving young children's vocabulary knowledge can lead to better educational and economic opportunities at virtually every stage of life.
This research, she says, is particularly important for educators and researchers working with at-risk populations, such as low-income African-American children. About 90 percent of students at the school are black, according to Rogers.
One way to boost vocabulary knowledge may be through gesture, Wilbourn says. A body of research suggests that when gestures or body movements are incorporated in instruction, African-American children improve significantly on vocabulary and memory tasks. 
She wants to determine how gesture-accompanied speech -- American Sign Language plus English words -- can be used as a culturally relevant tool to improve children's vocabulary and language development.
"Gesture-accompanied speech enhances language-learning because it provides children with multiple ways to learn and remember information through their ears and their bodies," Wilbourn says. "The cultural relevance of incorporating movement and gesture may be even more beneficial for African-American children."
An essential component of conducting research with at-risk children is to first earn their trust, Wilbourn says. One way to do that is by becoming a familiar face on campus, especially when children associate someone's presence with fun, as with the track team visit.
That may have worked.
"The biggest highlight was one of them asking if he could join our team," says Associate Head Coach Shawn Wilbourn, Makeba Wilbourn's husband. (Watch a video of the track team visit.) 
Rogers, Spaulding's principal, says events such as visits by the track and men's soccer team and programs such as Read with the Blue Devils inspire her students.
"It means the world to them," Rogers says. "They look at the Duke athletes as super stars, rock stars, but for them it is, 'I can go to college, too?'
"We talk about college all the time -- what you dream, you can achieve, and for many of them, they may be the first in their family to go to college so to know that that is possible is outstanding for them."
At the track team visit, Rogers said the attention paid to her students by Duke athletes can go a long way.
"When you know someone believes in you, it gives you the belief in yourself that you can do it," she said. "Just watch their faces out here, and you can see they are excited. Each day I am just astonished with that they deal with when they come to school. They want to learn, they want to achieve, so this attention means the world to them."