Duke Workforce Demographics: Most Employees Call Durham County Home
Slightly more than 17,000 employees - about half the entire Duke workforce - who live in Durham County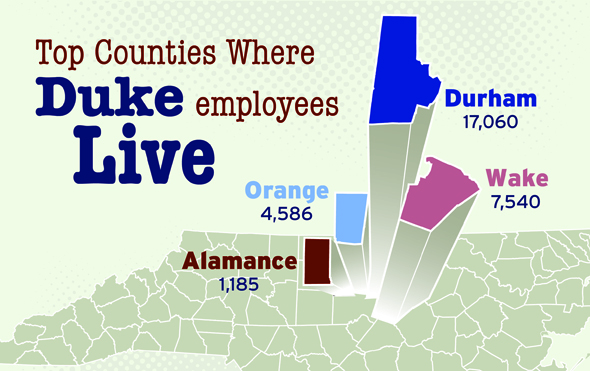 From weekly farmers markets to restaurants and festivals, it's more than just the moniker that attracted Emily Durham to live in the city that shares her name.
"Durham is a great place for young professionals," she said. "It's an affordable place to live, and it has all the amenities you'd want in a big city, but it feels like a small one."
She is one of slightly more than 17,000 employees - about half the entire Duke workforce - who live in Durham County, which covers the entirety of the City of Durham and small portions of northwest Raleigh and eastern Chapel Hill. Durham County is the highest populated place to live for faculty and staff, followed by 7,540 employees who live in Wake County.
In all, Duke employees live in 78 of 100 counties in North Carolina, while 897 live out of state and 88 live abroad in places like China, Kenya and the United Arab Emirates, according to Duke Human Resources.
When Durham, a program coordinator with DukeEngage, started her job at Duke three years ago, she had only visited the Bull City a few times. Growing up in Greensboro, she didn't realize all the City of Durham had to offer, like the Carolina Theatre or a growing "foodie" culture.
She lives near South Square now, but she said she can't wait to move downtown and immerse herself in the city with favorite hangouts like Old Havana Sandwich Shop, concerts at the American Tobacco Campus and the East Campus track.
"Durham is consistently ranked as one of the best places to live, work and play," said City of Durham Mayor William V. "Bill" Bell.  "The Duke employees who have chosen to live in our community are a vital part of the intricate tapestry that makes Durham so accepting, culturally diverse and community-spirited."