Duke Workforce Demographics: 'The City of Duke'
Duke boasts a variety of jobs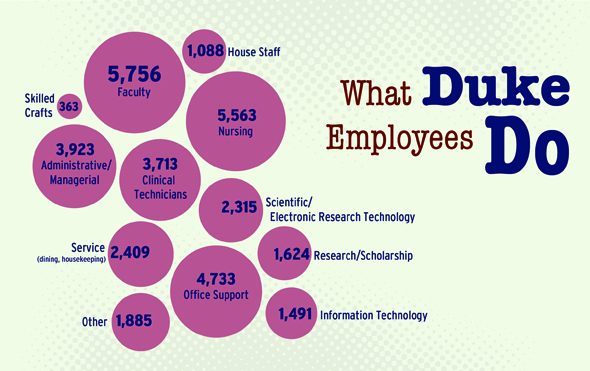 Denise Motley Johnston, director of recruitment at Duke, describes the place she works as "the city of Duke."
With 34,863 employees, Duke is larger than many cities in North Carolina, including Carrboro, Asheboro and Wake Forest. And like most communities, Duke boasts a variety of jobs, from police officer to plumber.
"When people think of Duke, they often picture professors, researchers and health care providers because they represent what we are known for: education, research and patient care," Motley Johnston said. "However, we also have a huge supporting cast of staff, including groundskeepers and clerical support."
To help organize jobs, Duke Human Resources groups them into families of related jobs such as "office support," "faculty" and "service." Faculty is the largest group with 5,756 employees, according to Duke Human Resources. Nursing is a close second with 5,563 employees.
"The fact that we have close to the same number of employees in the nursing families as we do faculty surprises most people, but it takes many nurses to keep our hospitals, clinics and practices running," Motley Johnston said.
Smaller job families such as "skilled crafts" include positions like steam plant operators to keep buildings cool in summer and warm in winter and cryogenic refrigeration specialists to care for specialized machines for freezing research samples.
"All jobs are essential to the effective and efficient operation of Duke," Motley Johnston said. "The Duke brand is very strong, and many people relocate to this area hoping to become part of the Duke family."