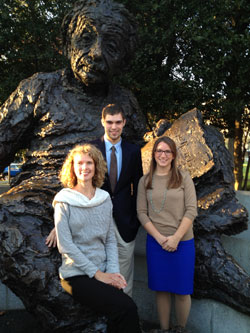 A delegation from Duke University traveled to Washington, DC, last week to participate in launch activities of the Higher Education Solutions Network (HESN), a partnership between universities and the US Agency for International Development (USAID) designed to develop innovative solutions to the world's most pressing development challenges.
At an official inauguration ceremony hosted at the National Academy of Sciences on Friday, USAID Administrator Rajiv Shah said, "The Higher Education Solutions Network is the latest step in USAID's efforts to harness the best ideas from the academic and scientific community and young people worldwide to foster transformational progress in development.
"Through this network of Development Labs, we will recapture the legacy of science, technology, and innovation as core drivers of development -- as well as inspire and support the next generation of development leaders," Shah said.
In addition to the inauguration ceremony, members of the Duke group also visited the White House  complex to discuss Duke's efforts with Dr. John Holdren, assistant to the president for science and technology and heard remarks by Secretary of State Hillary Clinton at the State Department. 
In her remarks about the promise of the HESN, Secretary Clinton mentioned Duke in an example of how the network could work:
"An entrepreneur at Berkeley discovers a groundbreaking innovation to bring clean drinking water to low-income families, but she needs to take it to scale. So the network connects her to researchers at Duke who have expertise in accelerating and scaling up solutions, and together, they grow her business so her work benefits hundreds of thousands, even millions of people." [Read Secretary Clinton's full remarks here].
The Duke delegation included Dr. Michael Merson, vice president and vice provost for global strategy and programs and founding director of the Duke Global Health Institute; Matthew Nash, executive director of the Center for the Advancement of Social Entrepreneurship; Dr. Krishna Udayakumar, head of global strategy for Duke Medicine; David Robinson, professor of finance at the Fuqua School of Business; and Richard Bartlett, associate director of the International Partnership for Innovative Healthcare Delivery at Duke Medicine. 
Three students also attended inauguration activities:  Michael Maranzano, a Duke senior engineering student, has participated in Dr. Robert Malkin's Developing World Healthcare Technology Laboratory working on the "Pratt Pouch," a ketchup packet-like pouch containing single doses of anti-retroviral drugs that help HIV-positive moms prevent transmission of the virus to their newborns; Sylvia Sable, a master's candidate in the global health program; and Liz Charles, a second- year MBA candidate at Fuqua, have both worked with the International Partnership for Innovative Healthcare Delivery (IPIHD), one of the interdisciplinary partners across Duke that will participate in the USAID partnership.
As one of seven founding partners of the HESN, Duke received a $10 million grant to apply the university's expertise in social entrepreneurship and innovation to address global health issues.  The university will use the award to launch the Social Entrepreneurship Accelerator at Duke (SEAD), a global health development lab that identifies and supports the growth of solutions to global health challenges in low- and middle-income countries.
For more information, visit www.SEAatDuke.org.
Below: Dr. Michael Merson presents the Social Entrepreneurship Accelerator at Duke to an audience gathered at the National Academy of Sciences. Photos by Landy Elliott.