And the Halloween Photo Contest Winner Is...
Employees dressed as Pinocchio and Geppetto win first place
A photo of Lora Griffiths and Connie Tubiolo dressed as Pinocchio and Geppetto won the 2nd annual Blue Devil Halloween Photo Contest by a long nose. 
Read More
The photo garnered 93 of 492 online votes cast; a photo of employees dressed as Smurfs collected 49 votes for second place among 30 photos submitted. 
"I'm delighted that we won, especially since there were so many good photos," said Griffiths, who dressed as puppet master, Geppetto. "I liked seeing how many groups were dressing up together."
This is the second year Griffiths and Tubiolo captured the top prize. Last year, the duo from the Office of Sponsored Programs won as Raggedy Ann and Raggedy Andy. 
The runner-up winner is staff from Duke Gastroenterology of Raleigh. They submitted "Happy Smurfoween," which showed nine staff dressed as various members of the Smurf family.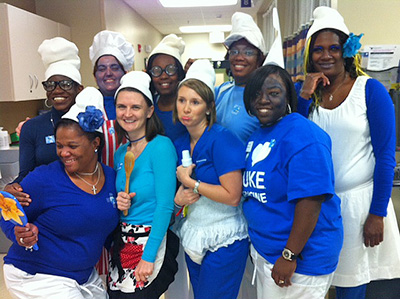 Nine staff members from Duke Gastroenterology of Raleigh came to work on Halloween as The Smurfs. Back row, from left, are Ponda Hatton, Kelly Osborne, Gwendolyn Thompson, LaJuanna O'Neal and Angela Canady-Blaylock. Front row, from left, Tracy Tillery, Crystal Munck, Naomi Clifton and Tanikka Long.
Tracy Tillery, an advanced practice nurse, said this is the second year the staff has worked together to choose a theme for Halloween costumes. Last year, they selected a Wizard of Oz theme.
"It is fun because it gets a lot of laughs and smiles," Tillery said. "We were just sorry we couldn't get one of our physicians to be Papa Smurf."
To honor the creativity shown in submissions, the Working@Duke staff chose the photo of a pumpkin participating in a clinical trial for the "editorial choice award." The photo was submitted by Adam Gorka, a graduate student in the lab of Ahmad R. Hariri, professor of Psychology and Neuroscience.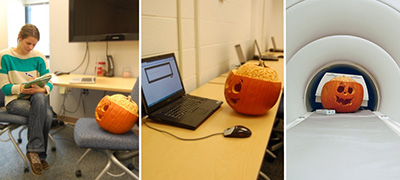 Annchen Knodt, research associate in the lab of Dr. Ahmad Hariri, carved a pumpkin that went through the three stages of the Duke Neurogenetics Study, which uses functional MRI scans to study the brain. Research assistant Kelly Faig, is pictured conducting the pumpkin's intake.
"We can't remember who was the first to suggest the idea of putting the pumpkin through the stages of the Duke Neurogenetics Study, but we all quickly agreed it was a good one," Gorka said. "It was really a group effort."