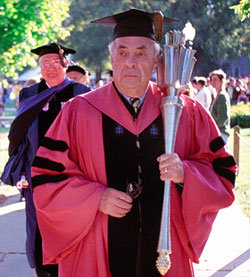 Pelham Wilder, a former university marshal and professor emeritus of chemistry who taught for more than 50 years at Duke University, died Saturday. He was 92.
Wilder also taught pharmacology in Duke's School of Medicine from 1977-2000, the year he retired. As university marshal from 1977-2000, he led the procession at the university's most significant occasions -- opening convocation, Founders' Day, commencement -- and was also responsible for organizing details and making decisions about the operation of the ceremony.
Wilder was born on July 20, 1920, in Americus, Ga., and raised in Savannah. He received undergraduate and master's degrees from Emory University and a master's degree and Ph.D. from Harvard University.
In 1949, after three years as a teaching fellow at Harvard, Wilder accepted a position as an instructor with Duke's chemistry department.
It would be the last job-related move that he and his late wife, Sterly Lebey, would make.
"I was very young at the time. It was my first appointment and I was very excited," Wilder said in a 1999 interview. "Once I saw the quality of the faculty and the administration, I decided to stay. Sure, I've had a half-dozen opportunities to leave ... but I never saw anything to entice me."
The Wilder family's connections to Duke have continued. His daughter, 1983 Duke graduate Sterly Wilder, serves as secretary-treasurer of the Duke Alumni Association Board of Directors and is the associate vice president of Alumni Affairs. His son, Pelham Wilder III, graduated from Duke in 1973, and his grandson Pelham Wilder IV, earned an undergraduate degree from Duke in 2005 and a law degree from the university in 2008.
Pelham Wilder served with the U.S. Navy during World War II and continued his work with Navy's ROTC after leaving the service. He held several leadership roles with the Association of NROTC Colleges and Universities, serving three terms as the association's president from 1982-88. He represented Duke on the association for more than 25 years. In 1993, he received the Distinguished Public Service Award from the Secretary of the Navy for his efforts.
In 2005, Wilder was again honored for his service, this time by the National Naval Reserve Officer Training Corps. At the time of the ceremony, Wilder said he thought it was important for Duke to take a leadership role in ROTC.
"I've always felt that the officers of the military should be educated as well as trained," Wilder said. "We need them to be trained to defend the country, but they should also be ambassadors. We need people who are trained in liberal arts to serve in the military."
Dignitaries at Duke spoke highly of Wilder over the years, including the late Mary Duke Biddle Trent Semans, great-granddaughter of university namesake Washington Duke.
Wilder "personifies Duke University," Semans said in a 1999 interview. "Not just for us, but for generations at Duke."
President Emeritus H. Keith H. Brodie once called Wilder "a godsend to anyone who is a Duke president."
"Nobody could have had a happier life," Wilder said in 1999. "The university's really been good to me and my family. If I could do it all over again, I don't think I'd change a thing. I don't think many people can say that."
He is survived by three children: Ann Wilder of Durham, Pelham Wilder III and his wife Susan of Atlanta, and Sterly Lebey Wilder of Durham; grandsons Pelham Wilder IV of Atlanta and Andrew Davidson Wilder of Charlotte, and daughter-in-law Lee Davidson Wilder of Atlanta.
A funeral service will be held on Wednesday, Oct. 10, at 11:00 am in Duke Chapel led by presiding ministers Dr. Richard Lischer, the James and Alice Mead Cleland Professor of Preaching at Duke Divinity School, and the Rev. Dr. William Willimon, former bishop of the north Alabama district of the United Methodist Church.
Internment will take place on Oct. 12 at the family plot in Bonaventure Cemetery in Savannah, Ga.
The family will receive friends from 6-9 p.m. Tuesday, Oct. 9, at 26 Pennington Place.
Funeral arrangements are being handled by Howerton & Bryan Funeral Home.
The family would like to express their thanks and appreciation to the staff at Hillcrest Convalescent Center for their care over the last nine years.
Memorials may be made to the Sterly and Pelham Wilder Jr. Chapel Endowment Fund c/o Duke University Chapel, Box 90974, Durham, NC 27708, or to the Frank Neelon Fund for Literature in Medicine, c/o Triangle Community Foundation, 324 Blackwell Street #1220, Durham, NC 27701.