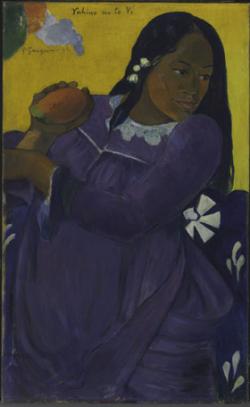 An exhibition featuring more than 50 masterpieces by Henri Matisse, Pablo Picasso, Paul Gauguin, Pierre-Auguste Renoir, Vincent van Gogh, Camille Pissarro and others will be presented at the Nasher Museum of Art at Duke University, beginning Nov. 4.
The exhibition, "Collecting Matisse and Modern Masters: The Cone Sisters of Baltimore," tells the story of two Victorian-era sisters whose collection was financed by their brothers' textile empire in North Carolina during the first half of the 20th century. The Nasher Museum is the third and final venue for the exhibition, which is on view through Feb. 10, 2013.
Matisse called Claribel and Etta Cone "my two Baltimore ladies." The Cone sisters bought art directly out of the Parisian studios of avant-garde artists, starting in 1905. At a time when critics disparaged Matisse, and Picasso was virtually unknown, the Cones supported them and eventually amassed one of the world's greatest collections of modern art.
"We are thrilled to present this stunning exhibition, which tells a very special North Carolina story," said Sarah Schroth, interim director and the Nancy Hanks Senior Curator of the Nasher Museum. "For the first time, visitors will be able to comprehend the complete and fascinating picture of the Cone sisters as collectors through their incredible purchases of master paintings, prints and drawings, as well as fabrics, laces and jewelry from around the world, personal letters and diaries."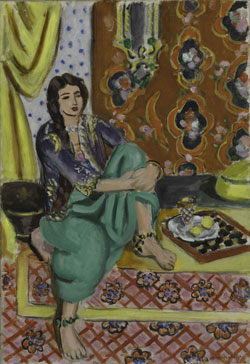 Henri Matisse, Seated Odalisque, Left Knee Bent, Ornamental Background and Checkerboard, 1928. Oil on canvas, 21 5/8 x 14 7/8 inches. (54.9 x 37.8 cm)
The exhibition, which originated at The Baltimore Museum of Art, includes textiles and decorative arts from Europe, Asia and Africa that the Cones collected, as well as archival materials that highlight the sisters' remarkable lives. It features an interactive virtual tour of the sisters' adjoining Baltimore apartments, showing the collection as it was displayed in their home.
The exhibition will be complemented by programs at the Nasher Museum, including two free family day events; talks by art historians; French wine tastings and musical performances; gallery tours and drawing sessions; teacher workshops and more. In addition, UNC-TV is producing a 30-minute documentary about the exhibition.
Admission is $12 for adults ($15 with guided tour), $6 for children 7 to 17, and free for children 6 and under. Admission is free for Duke students (one per I.D.) and for Nasher Museum members (two free tickets per day per membership). Admission is $6 for non-Duke students, $6 for faculty and staff with a Duke ID and $6 for Duke Alumni Association members with an ID card. Tickets are available by calling (919) 684-4444 or clicking on events.duke.edu/matisse.
Additional information is available at nasher.duke.edu.
Below: Henri Matisse, Striped Robe, Fruit, and Anemones, 1940. Oil on canvas, 21 5/8 x 25 5/8 inches (54.9 x 65.1 cm). The Baltimore Museum of Art: The Cone Collection, formed by Dr. Claribel Cone and Miss Etta Cone of Baltimore, Maryland, BMA 1950.263. © 2012 Succession H. Matisse / Artists Rights Society (ARS), New York.
"Collecting Matisse and Modern Masters" is organized by The Baltimore Museum of Art, The Jewish Museum, New York, and the Vancouver Art Gallery. At the Nasher Museum, lead foundation support is provided by the Crow Creek Foundation. In Durham, the exhibition is presented in collaboration with the Nasher Museum of Art at Duke University.
At the Nasher Museum of Art, lead foundation support is provided by the Crow Creek Foundation. Lead corporate support is provided by Wells Fargo. The media sponsor is NBC 17. Major support is provided by the Mary Duke Biddle Foundation, William R. Kenan, Jr. Charitable Trust, Marilyn Arthur, Trent Carmichael, Carol O'Brien Associates, Inc., Katherine Thorpe, Office of the President at Duke University, Office of the Provost at Duke University, Frances Rollins, Drs. Victor and Lenore Behar, Christie's, and Thomas S. Kenan, III. Additional generous support is provided by the Cemala Foundation, Stefanie and Douglas Kahn, Kelly Braddy Van Winkle and Lance Van Winkle, Graduate Liberal Studies at Duke University, Parker and Otis, Jo and Peter Baer, Pepper and Don Fluke, Mindy and Guy Solie, Carolyn Aaronson, Marcia Angle and Mark Trustin, Clinical Ambassador, Diane Evia-Lanevi and Ingemar Lanevi, Janet Holderness and William Transou, Caroline and Arthur Rogers, Angela O. Terry, Ruth Glesby Wagner, and Jewish Life at Duke. This exhibition is supported by an indemnity from the Federal Council on the Arts and the Humanities.
The Nasher Museum, at the intersection of Campus Drive and Anderson Street on the Duke campus, is open 10 a.m. to 5 p.m. on Tuesday, Wednesday, Friday and Saturday; 10 a.m. to 9 p.m. on Thursday; and noon to 5 p.m. on Sunday. The museum is closed Mondays.