It's plain to see that Raymond Barfield, MD, PhD, is passionate about making life better for the seriously ill children he sees every day, even the ones he can't save. He keeps a photo of one patient he lost years ago, named Ali, by his desk. But it was that deep, intense passion for his patients that almost led the pediatric oncologist to walk away from medicine all together.
Death and dying may be part and parcel of a physician's job, but the struggle to remain focused on the medicine yet detached from the pain and suffering can create moral dilemmas and job dissatisfaction for some. Physicians who once saw themselves as heeding a higher call to help others can find themselves frustrated, burned out, or out of touch with the human side of medicine.
Currently the director of pediatric palliative care at Duke, Barfield found himself in that very position while practicing in oncology and bone marrow transplantation at St. Jude Children's Research Hospital in Memphis, Tenn.
He remembers saying to himself, "I can't practice medicine with this kind of distance. The language of professionalism is too thin for me given the weight of what we're doing. And yet when I move close, I'm in so much pain. I can't die a thousand deaths as though every kid is my own."
A Very Special Patient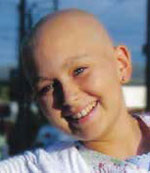 Ali, cancer patient
Ali, a 12-year-old girl, and her family particularly left a lasting impression on Barfield while at St. Jude. Ali had survived neuroblastoma, an aggressive childhood cancer, as a 5-year-old, but the cancer returned. As Ali underwent treatment, Barfield found himself interacting with her in ways that he never had with a patient before, from singing the theme song to the "SpongeBob SquarePants" cartoon to engaging in serious conversations about spirituality. Ali died shortly after her 13th birthday, and Barfield spoke at her funeral.
"For the first time I got a direct experience of what it's like to suffer," he says.
Through his experience with Ali and after years of witnessing physicians focus more on invasive treatments and technology than on what's most important to families as their children died painful deaths, Barfield came to realize that for him to stay in medicine, he had to rethink some things about medical practice. So he set out on a journey to find a better model of care, one that involved being present with patients and focusing on the whole person.
Asking What's Wrong With Medicine?
Barfield knows his experience is not unique, and that many physicians, regardless of whether they treat terminally ill patients, are struggling with feelings of frustration in their profession. A scan of scholarly literature will reveal numerous studies on physician empathy, and titles such as Jeffrey P. Bishop's The Anticipatory Corpse and Rita Charon's Narrative Medicine: Honoring the Stories of Illness, reflect an awareness of the need for change in medical practice.
"It's really hard to say what it is that so many physicians are dissatisfied with," Barfield says. "You could start asking people (at Duke Hospital), is there anything wrong with modern medicine? And many of them would say there's something wrong, but they'd have a really hard time saying what it is. They might say something like 'Well, we're overworked,' or 'Our intensive care units are filled with people who probably shouldn't be there.' Maybe, but I think there is a lot more to it than that."
Barfield, who holds appointments in both the Duke University School of Medicine and the Divinity School, thinks Duke is in an unusual position as one of only a handful of universities in the country that offer both medical and divinity degrees, and a partnership between the two schools might offer a key piece to solving the puzzle of physician dissatisfaction. He believes incorporating a new mindset and model of care early on in the careers of the next generation of doctors could make a meaningful and lasting difference in medical practice.
That's why he's part of a team that is establishing  a new interdisciplinary program based at the Divinity School called Initiatives in Theology, Medicine, and Culture, which, with the involvement of faculty and students, will examine some of the ills facing medical education today and how better integration of the humanities can play a role.
Reimagining Medicine
Identified as a priority by Divinity School Dean Richard B. Hays, the initiative is in its early stages, but a few components are beginning to take shape, including a three-year project, called Reimagining Medicine, which will bring together scholars from the United States, the U.K., and Africa. Warren Kinghorn, D'02, MD, HS'03-'07, ThD'11, director of psychiatric emergency care at the Durham Veterans Affairs Medical Center and assistant professor of psychiatry and pastoral and moral theology, plans to lead a mental health project that will examine how Christian communities have cared for persons with severe mental illness historically and in the present day. Richard Payne, MD, the Esther Colliflower Professor of Medicine and Divinity, will also play a role in the initiative.
"The Divinity School has long recognized the vital historic connection between faith communities and communities of medical practice; accordingly, we have worked to foster interdisciplinary conversations across the Duke campus," says Hays. "This new initiative is one more way for us to better prepare leaders in both these communities for the difficult yet crucial task of caring for individuals facing illness or death." The Medicine-Divinity Degree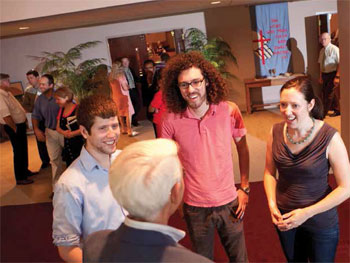 Medical students David Arriola, center, and Amy Ehman, far right, attend church at Cole Mill Road Church in Durham.
A major part of the initiative is expanding opportunities for medical students to pursue theological training. Beginning this fall, two medical students, Amy Ehman, T'10, MSII, and David Arriola, MSIII, will begin studying for divinity degrees. Divinity classes have always been open to medical students, and some students have completed their third-year research projects in the Divinity School as a part of the medical humanities track. However, this will be the first time Duke has sponsored dual degrees in medicine and divinity. A formal dual degree program is expected to soon follow.
"There are a lot of individuals who have these interests, but providing more of an infrastructure to support them is really important," Kinghorn says. "We want Duke to be the kind of place where if you're interested in deep theoretical study within medicine that you don't have to create your own path. Every medical school including Duke is looking for humanistically oriented medical students who are going to embody the best of what it means to be a physician."
Described as pioneers by Barfield, Ehman and Arriola expressed an interest in pursuing divinity degrees after attending the Healing Arts Reading Group at the Divinity School. Open to students from all disciplines, the group's bimonthly meetings frequently featured Duke doctors, nurses, other health professionals, and Divinity faculty covering topics such as end-of-life care, ethics, and theology.
Ehman, who holds an undergraduate degree in history and has interests in theater and creative writing, says she always has been drawn to the humanities but did not know a dual degree was an option until engaging in conversations with Barfield and others at the reading group.
Having completed her second year of medical school, Ehman will now spend the next two years earning a master of theological studies degree. One of those years will count toward her third year of scholarly research required by the medical school. Her research will examine whether evangelical Christians view depression as a medical problem, a purely spiritual one, or both.
Raised in an evangelical Christian household in San Diego, Ehman first became interested in the topic as an undergraduate after discovering that some of her friends were struggling with depression and had resorted to cutting themselves or developed eating disorders, yet they were reluctant to seek help outside the church. They were unsure if it was a form of weakness to seek help from psychiatrists for something they had been told could be "prayed away."
"It saddens me when people in the church cut themselves off from medical help," she says.
Ehman was also heavily influenced by her grandmother's health problems. After suffering a stroke, her grandmother wasn't quite the same person that Ehman and her mother had known all their lives. Ehman says her grandmother "lost her personality," became depressed, and attempted suicide.
"It was hard for my mom to come to terms with the fact that my grandmother couldn't control what was happening to her," she says of her mother who also struggled to understand why her prayers weren't enough. "I was curious why it was so difficult for her."
Ehman's research will involve surveying some of the larger evangelical churches in the Durham area. She believes studies such as hers could have implications for all physicians.
"If religion is important to their patients, then physicians have to care, whether they believe in God or not," she says. "The way I see it, if we understand what theological beliefs are preventing some evangelicals from seeking mental health care, clinicians and clergy can better address patients' fears, concerns, and needs."
Arriola also recently finished his second year of medical school and is pursuing a three-year master of divinity degree. He plans to research the role of ethics in medical professionalism and the moral formation of doctors in training.
What he is most looking forward to is having the time and freedom to explore his interests in ethics and the role of spirituality in medicine, topics he's confident will make him a better and more caring doctor.
"The reasons I decided to go into medicine are more about the relationships I have with patients," Arriola says, adding that as physicians and scientists continue to make more technological advances and as medicine becomes more specialized, "doctors run the risk of becoming dispensers of technology." Instead he hopes to become a "moral agent."
Once Ehman and Arriola finish their respective degrees at the Divinity School, they will then complete their fourth years of medical school. They both hope to eventually work in academic medicine.
Kinghorn himself took a less traditional approach to becoming a doctor by taking a leave of absence while a student at Harvard Medical School to pursue a master of theological studies degree at Duke, and he points out that the aim of the Initiatives in Theology, Medicine, and Culture project is not primarily to make physicians into ministers.
"We're not interested in creating physicians that are going to try to speak theology to their patients as ordained ministers would do," he says. "Rather, we want clinicians to be sensitive to the needs of patients who come from religious communities, and the kind of training we can offer will allow medical students and trainees to gain a conceptual vocabulary with which they can communicate, especially with religious communities and patients that come from religious communities."