Fall 2012 Walking Fish Shares Now Available
Walking Fish is a community supported fishery (CSF) that links fishermen on the coast of North Carolina to consumers in the Triangle.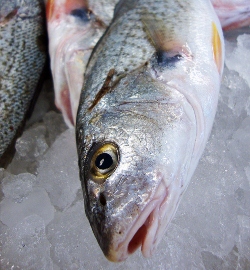 The Walking Fish Cooperative is dedicated to the long-term viability of NC coastal resources and the communities that rely on them. For those interested in buying local, North Carolina seafood, consider supporting the program by joining the community supported fishery (CSF), buying a crab pot, or purchasing seafood for an event. Shares are now available for the fall 2012 CSF. The 12-week season begins in mid-September with afternoon pick-ups at the Sarah P. Duke Gardens on campus on Thursdays. A community supported fishery (CSF) is based on the community supported agriculture (CSA) model. A CSF involves pre-payment by consumers for a 'share' of fresh, locally harvested seafood (i.e., a set amount of seafood generally picked up by the consumer on a weekly or bi-weekly basis). Just as CSAs can encourage sustainable and profitable farming practices, CSFs have the potential to do the same for fishing.This initiative takes root in the belief that people - whether they are coastal fishermen or local consumers - play an important role in creating solutions to the social, economic, and environmental challenges we face. The goals of this business are simple: to foster economic opportunities, to cultivate healthy communities, and to encourage environmental stewardship. We recognize that conservation is intimately linked to the well-being of people and communities, and we believe that in order to work towards ecological sustainability we must also work towards local economic stability and social equity. Walking Fish was initiated by a group of graduate students at Duke University's Nicholas School of the Environment in 2009 in partnership with a number of North Carolina-based for-profit and non-profit organizations. In 2011, the core fishermen involved in Walking Fish formed a cooperative to assume leadership for Walking Fish. The new leadership is committed to upholding a triple bottom line.
Read More