Modern Art at a Modest Price
Nasher Museum of Art offers discount membership to Duke employees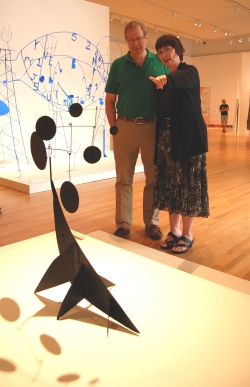 Janet Bassett watched as the "Performing Seal" mobile twisted slowly before her, its dark metal discs casting shadows across the Nasher Museum floor. Although it was her third time seeing the mobile, she was captivated.
Read More
"The whimsy of it still catches me," said Bassett, a financial analyst III for Duke's Patient Revenue Management Organization. 
The mobile was part of "Alexander Calder and Contemporary Art: Form, Balance, Joy" at the Nasher Museum. Bassett used her discount museum membership to visit the exhibition several times without having to pay the $10 admission. 
Although many exhibitions at the Nasher Museum are free to Duke faculty, staff and students, tickets are required for some special exhibitions, such as the Calder display. 
But Duke employees can get free admission to special exhibitions and shows by joining the museum through PERQs, the Duke employee discount program. At a discount rate of $40 for a two-person membership, staff and faculty get daily access to exhibitions (including ticketed special exhibitions) with a guest for a year. Membership also includes free audio tours and a 10 percent discount at the museum cafe and store. 
"I went to the Calder exhibit twice by myself and once with a friend," Bassett said. "That's one of the treats of membership. You can go back repeatedly and take someone with you if you want."
Even without the discount membership, staff and faculty can save on special exhibition tickets. Admission is half price, or $5, for staff and faculty.
Bassett said the exhibitions, audio tours and talks at the Nasher Museum have introduced her to new aspects of modern and contemporary art. "I now realize I like modernistic art," she said. "The membership makes it convenient for me to go to the museum anytime, and there is always something worth seeing." 
Bassett enjoys visits to the museum so much that she purchased two additional memberships (at the full $60 price) for her son and granddaughter.
"I like to give gifts of experience," she said. "It is nice to be able to all get together and say, 'let's go see what's at the Nasher.' "