Duke in Pictures: Remembering the Victims of 9/11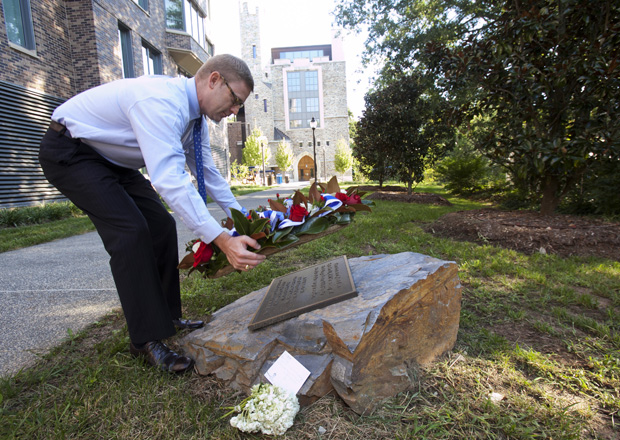 In a ceremony Tuesday morning, Christopher O'Neill, assistant director of regional programs with the Duke Alumni Association, lays a wreath on the plaque near the grove of six trees planted at Keohane Quadrangle in memory of the six Duke Alumni who died during the Sept. 11, 2001, attacks in New York, Pennsylvania and Washington.
The six Duke alumni who died during the attacks are Michael Morgan Taylor '81, Frederick C. Rimmele III, M.D. '94, A. Todd Rancke '81, Christopher Todd Pitman '93, Peter Ortale '87, and J. Robinson "Rob" Lenoir '84.
Duke Alumni Association has laid a wreath at the memorial on each anniversary since the attacks, to remember them.
Below, A note for Todd Rancke is left near the plaque near the grove.
Photos by Megan Morr/Duke University Photography.