Workshop Empowers Women To Tackle Finances
Pilot program for female Duke employees provides financial tips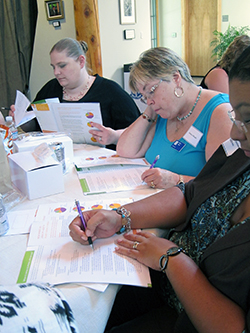 Christine Vucinich pays her bills, regularly monitors her bank account and has twice taken advantage of free one-on-one financial counseling offered by Duke's retirement vendors.
Read More
She's fairly confident she's on the right track for retirement, but when she received an invitation from Duke's Administrative Women's Network to attend a financial workshop for women only, she registered for the July 26 session to learn more.
"It was a fantastic opportunity to learn from other women at Duke in a very safe, open atmosphere," said Vucinich, outreach coordinator with the Office of Information Technology. "The discussions helped me understand the importance of looking at both short-term goals and long-term goals when planning for my financial future."
Vucinich was among 70 women who attended the special workshop presented by one of Duke's four retirement vendors, TIAA-CREF, in partnership with Duke Human Resources and the Administrative Women's Network. The workshop is part of the "Woman to Woman Financial Empowerment" series developed by TIAA-CREF to help participants understand their financial personality and create a solid foundation for making financial decisions. Duke is one of 20 universities testing the workshop, which TIAA-CREF plans to roll out nationally next year. 
"This workshop was an opportunity to continue Duke's efforts to engage everyone - including women - in the important subject of planning and saving for retirement," said Sylvester Hackney, associate director of benefits at Duke University.
At the start of the workshop, Kyle Cavanaugh, vice president of administration, offered remarks and introduced TIAA-CREF facilitators Fran Slacum and Marian Davis, who emphasized the importance of financial literacy for women. They shared these statistics:
Women spend an average of 11.5 years out of the workforce during their prime working years, reducing their opportunity to contribute to retirement savings.
Women live, on average, three years longer than men, so they need three more years of retirement savings.
In 2009, the average retirement income among senior women was $14,429. For men, it was $25,344.
"Since we are living longer and earning less, we need to do more," Slacum said.
Slacum and Davis reviewed the importance of building up an emergency fund and noted the power of compounding interest and tax deferred funds for increasing retirement savings. They also suggested documenting financial goals.
"Writing things down helps us make choices," Davis said. "And making choices is what planning is all about."
Throughout the workshop, participants shared short-term and long-term financial goals - from saving for a wedding to preparing for retirement - and challenges keeping them from meeting those goals. They also took a financial personality quiz that helped identify spending habits and thought processes around money.
Vucinich, the outreach coordinator with the Office of Information Technology, said the quiz and discussions at her table helped her understand her tendency to keep retirement funds invested with a short-term, rather than long-term view in mind.
"The exercise confirmed that I am conservative about money in general," she said. Based on this insight, she plans to go back and review her investment decisions. 
"I've had another meeting with a financial advisor on my `to do' list for a long time, but other things have taken priority," she said. "This program put it back on the radar."