Summer Time Art Exhibits Around Duke
Connect with the world by visiting free art exhibits in unexpected campus places
Duke's commitment to art pops up in some unusual places.
The Library. Sanford School of Public Policy. Halls of the Allen Building. 
Read More
These and other places have become non-traditional galleries for visual art exhibitions that offer diverse perspectives on the world and human behavior and bring art into the daily lives of staff, faculty and students. 
"Bringing art into new places keeps the spaces alive," said Scott Lindroth, vice provost for the arts for Duke. "It is a fantastic way to build on the commitment Duke made in the strategic plan of 2006 to create an environment where the arts are clearly supported."
Because the exhibits usually change each semester, summer is a convenient opportunity to catch current exhibits before they are replaced for the fall semester. Working@Duke offers a glimpse at what's on display this summer at some galleries around Duke.
"The Hayti Sessions," Allen Building, second floor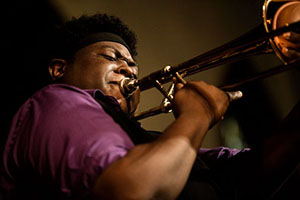 Photo of Reggie Pace by Jeremy M. Lange. Part of "The Hayti Sessions" exhibit in the Allen Building
Jeremy M. Lange's photographs of music rehearsals and performances at Durham's Hayti Heritage Center of "The Hallelujah Train" and "Sounds of the South" capture the intense energy of live concerts organized by Duke Performances in 2010 and 2011. 
The 34 color and black and white photos will remain on display through early August. A photography exhibit with work by Titus Brooks Heagins, a Duke alumnus, will follow Lange's collection this fall.
"We try to always have a Duke connection to the art in this gallery," said Sandra Walton, assistant to the chair of the Academic Council.
She helps coordinate the display in the hallway of the Allen Building outside the administrative offices - an area that Provost Peter Lange suggested turning into a gallery in honor of President Richard H. Brodhead's arrival in 2004. "The first display was of photos by Eudora Welty, owned by the Duke Libraries, because Welty is one of President Brodhead's favorite authors," Walton said. 
The Allen Building also hosts a rotating gallery of student work on the first floor.
"Fragments from Another Life," Rubenstein Hall, Sanford School of Public Policy 
Portrait of Agim Morina by Rhonda Klevansky. Part of the exhibit "Fragments From Another Life" at the Sanford School of Public Policy.
Rhonda Klevansky's black and white portraits of refugees holding personal items from their home countries vividly illustrate the plight of political asylum seekers. The portraits were taken in Great Britain and include refugees from 16 conflict-ridden countries.
Klevansky's exhibit of 44 photos will be up through Aug. 6.
The Sanford School of Public Policy hosts one to two exhibits each year and organizes panel discussions or other scholarly events around each exhibit.
"Photography is an important tool for drawing attention to societal problems, so exhibits like Rhonda's are a perfect fit for a policy school," said Karen Kemp, assistant dean for communications and marketing for Sanford School of Public Policy. "The exhibits help students connect real human beings to policy problems they study in class
"Northern India and the North-West Frontier Province," Library Special Collections Gallery
Pathan woman spinning. Photo by Randolph Bezzant Holmes included in the exhibit "Northern India and the North-West Frontier Province," in the Library Special Collections Gallery
In the corridor between the main entrance to Perkins Library and the reading room of the  Rubenstein Rare Book and Manuscript Library hang dozens of black and white photos taken in 1919 when Randolph Bezzant Holmes accompanied the British colonial army during the Third Anglo-Afghan War.
The photos, owned by Duke Libraries Special Collections, will remain on display through August 6. 
The Special Collections Gallery is one of several galleries managed by Meg Brown, who was hired three years ago as the first library exhibits coordinator at Duke. 
"Library exhibits are not a standard part of most libraries, but exhibits are a great way to bring people and ideas together," Brown said.
Visit the library website for other library exhibits, including "From Blackface to Blaxploitation: Representations of African Americans in Film" in the Rare Book Room hallway cases; and "What Does Your Doctor Know? Exploring the History of Physician Education from Early Greek Theory to the Practice of Duke Medicine" in the Perkins Gallery.
"Multitudes," Perkins Student Art Gallery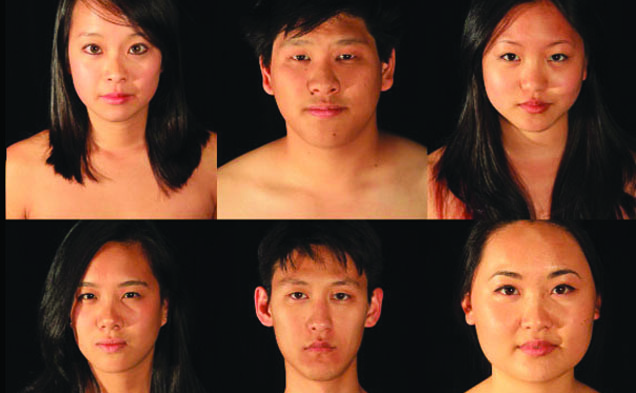 "Multitudes" exhibit created by Duke Students and displayed in the Perkins Student Art Gallery.
Last semester, Asian students gathered to create an interactive exhibition to dismantle stereotypes. The exhibit features 40 portraits of Asian students, each accompanied by a statement that completes the thought, "I am Asian and ."
"We aim to represent how being Asian at Duke is complex," project co-director Tong Xiang said in an interview with The Chronicle in April. 
The exhibit will remain on display until the new semester starts, when other students can apply to Meg Brown, the library exhibits coordinator, to have their art displayed. 
"Full Color Depression, First Kodachromes from America's Heartland," Center for Documentary Studies
Photo by Jack Delano. In the roundhouse at a Chicago and Northwestern Railroad yard, Chicago, Ill. December 1942. Photo courtesy of the Center for Documentary Studies as part of the "Full Color Depression" exhibit.
The Center for Documentary Studies, located at 1317 West Pettigrew St., teaches, produces and presents the documentary arts - photography, video, audio and print. Their current exhibit of rare color photographs of life in the U.S. in the late 1930s and early 1940s will be on display until July 23. 
The "Full Color Depression" exhibit is curated by Bruce Jackson, James Agee Professor of American Culture at the State University of New York at Buffalo. These photos are some of the earliest examples of color documentary photography, taken by a team of photographers whose assignment was to document what America looked like at the end of the Great Depression.
This summer's other exhibits include "Keep All You Wish: The Photographs of Hugh Mangum"; and "Beyond the Front Porch 2012" (projects created by the 19 Duke seniors who earned a Certificate in Documentary Studies).
Visit the Center for Documentary Studies website for more information.