Tips For Using Mobile Devices To Boost Productivity
In this installment of Tech Tips, learn how to use a mobile device to stay organized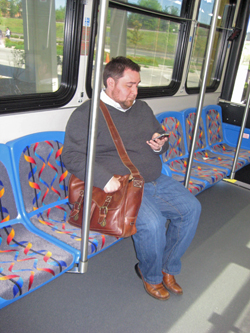 Shawn Miller makes the most of the bus ride to his West Campus office every morning, using those 30 minutes to plan his day and manage email using his iPhone.
"I put that transit time to use. I've already responded to the first 20 important emails before I even get to the office," said Miller, who works in in Duke's Center for Instructional Technology.
Smartphones and tablets have become a regular part of Duke employees' daily workflow. Nationally, 44 percent of adults own a smartphone, and about half of those use their phones to get news and other real-time information, according to a 2012 study by the Pew Research Center.
"There's an increasing synergy between apps on your phone and your desktop. You can create something on your phone and do something with it on your computer without having to email it to yourself," said Jeremy Bandini, a senior IT analyst who develops mobile applications in Duke's Office of Information Technology. "It lets you be creative wherever you are."
Here are five tips for using mobile devices to increase productivity and stay organized.
Capture notes (and images) with your device.
Miller uses his iPhone "for everything I would have used a piece of paper and a pen for. Thumb typing is a little awkward, but it saves me from having to take a laptop to meetings."
He also takes advantage of the iPhone camera. "If someone is writing on a whiteboard, rather than taking notes or drawings myself, I take a picture," he said. "You can also take pictures of documents and business cards."
Applications like Skitch allow users to annotate those images.
Use an app for organizing notes and to-do lists.
Miller favors applications like Evernote and Remember the Milk. (He wrote a guest post for The Chronicle of Higher Education's ProfHacker blog about Evernote.)
Bandini, a senior IT analyst, uses Evernote for to-do lists and storing technical tidbits and cheat sheets. "Googling is good, but I want to do it once and not have to do it again," he said.
Miller uses app "Remember the Milk" for his to-do list.
Use mobile devices and apps to make the most of "in-between" time.
Bandini's work team shares an iPad loaded with ebooks on technical topics. He listens to technical podcasts on his device during his 45-minute commute to home in Raleigh from work. "If I'm waiting for a meeting to start, or wherever I am, I have everything I need in front of me," Bandini said. "I can learn while I have downtime."
Apps like ReadItLater or Instapaper allow users to flag interesting web articles that you stumble upon during the day but don't have time to read right at that moment.
"It might not be important enough to save or bookmark, but I don't want to forget it. I can forward a page, then prune the list later," Miller said.
Access email and calendar on your mobile device.
Duke users can set up their Exchange mail and calendar accounts to be accessible from a variety of devices.
Even Word documents or Excel spreadsheets sent as attachments are viewable on a smartphone. "You can't do any editing, but you can at least read it and start thinking about it," Miller said. "Faculty members, for instance, can call up a submitted assignment so they can discuss it with a student."
Be savvy about mobile security and etiquette.
Bandini -- who, as a developer, uses mobile apps to troubleshoot servers remotely -- makes a point of not storing passwords on his phone, and he set an unlock code on the phone.
Miller makes a conscious effort to unplug. "Everything's on my phone, and my phone is always with me. There's the danger that, because you have a mobile device, work never ends. The real challenge is using the device to better manage the flow of information."