Duke Guiding Principles: Teamwork
School of Nursing pulls together to make a difference in sustainability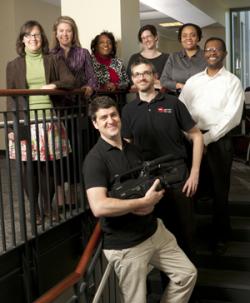 Stefanie Conrad remembers when the director of facility operations at the School of Nursing popped into her office and asked if she'd want to help make a video.
Mitchell Vann was enthusiastic, ready to pump up everyone on the DUSON (Duke University School of Nursing) Green Team for the upcoming challenge in the Green Devil Smackdown, a contest to see which team could earn the most points for "green" actions.
He thought a video would do just the trick.
The video featured DUSON employees doing their best environmental trash-talk, explaining over a hip-hop beat why they cared so much about green practices and trying their best to appear intimidating through their scrubs, face masks and antics.
It paid off - the 12-member DUSON team finished fourth in the Smackdown among 63 teams.
"The people I work with are so bright and smart and passionate and dedicated and cool that it just makes doing things like this so easy and fun," he said. "It's not work. It's wonderful."
By fostering positive work relationships and accepting responsibility and accountability, Vann is an example of a staff member who carries out the Duke Guiding Principle of Teamwork in his every day work and life.
He attended a Duke Sustainability Leadership workshop and soon after, he formed a volunteer advisory committee to help monitor sustainable practices. Vann also walks the `green' walk by regularly walking to work. He's known to pool resources and call upon other departments and coordinate projects.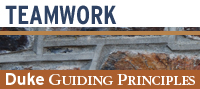 "I'm kind of a one-man shop here at this school, and what I do, the very nature of my job, is to ask a lot of people to do a lot of things," Vann said.
The team effort resulted in better professional or environmental outcomes, and a fun time.
"I think teamwork is the key," Vann said. "My approach to my job and just in general is that we're all in this together."