Duke Guiding Principles: Diversity
Sam Miglarese helps enrich Duke and Durham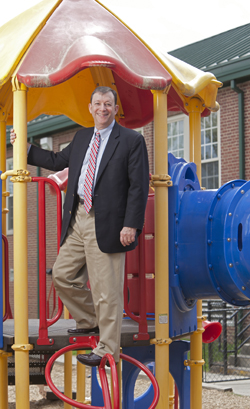 When a Duke student gets to experience life outside campus, two things happen, according to Sam Miglarese. The student enriches Durham, and Durham enriches the student.
Both contribute to the diversity of the Duke experience.
"Diversity is a sociological fact of Durham," Miglarese wrote in an op-ed column a few years ago. "It is a reality we all claim some pride in, as it grows more obvious."
When it comes to defining diversity, Miglarese, director of the Duke-Durham Neighborhood Partnership and director of Community Engagement for the Office of Durham and Regional Affairs, goes well beyond ideas of race and income.
For recognizing and valuing differences, Miglarese represents the Duke Guiding Principle of Diversity.
Miglarese came to Duke in 1999 after nearly 30 years in full-time church ministry. As the son of an Italian immigrant, he has a particular appreciation for the strengths found in one's differences. As a career minister, at one point serving as Chaplain to the Corps Cadets at the Citadel in Charleston, Miglarese has been especially connected to Durham's strong history of churches active within the community. 
One example of the Duke-Durham Neighborhood Partnership can be found in local education. "Every week we have 350 Duke undergrads teaching or tutoring in Durham public schools and at-risk youth programs," he said. But he warns against the stereotype of the privileged Duke student enlightening the lives of lower income individuals.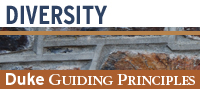 "Our undergraduates have become increasingly diverse over the years as the university's student body now includes people from all over the world," he said. "They are creating real relationships in the community that are mutually beneficial."
Miglarese said that his office has a unique role in helping foster such relationship between Duke and Durham.
"Our goal is to create an environment that allows diversity to enrich rather than divide," he said. "Diversity works best when it isn't perceived as a melting pot where differences are processed into the whole, but when we recognize the unique gifts different people have and how those differences can push us to be better."