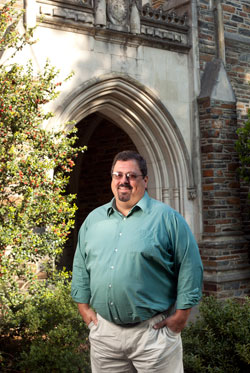 Arts & Sciences' Office of Assessment in the West Union Building is packed with documents from A&S departments ready for analysis from the three-person staff. Office director Matt Serra visits regularly with many A&S departments -- once, twice or more every year -- bringing both carrots and sticks.
He tells faculty: Nobody is forcing you to undertake assessment in a particular way. Duke is ready to help you and your departments develop metrics, apply tools and evaluate data in ways you'll actually find useful.
"My job is to remove obstacles," said Serra, who consults regularly with departmental assessment committees. "When faculty say they can't do a certain assessment, I see that the obstacles are removed so they can."
Serra is not alone in the process.  What started a decade ago as a small effort in A&S now involves faculty, administrators and staff from the provost's office, the library and the Center for Instructional Technology.  A faculty advisory committee, established in 2010 by the A&S Faculty Council, is the primary liaison between the administration and the faculty on assessment. In addition, Lee Baker, A&S dean of academic affairs, plays a major role in working with departments to develop their assessment efforts. 
Conducting assessment for departments or programs can be more challenging than for individual classes, said A&S Dean Laurie Patton. Departmental goals may include metrics that can only be measured five or even 10 years after graduation.  Other goals may resist formal assessment. Patton wants departments to find their own best metrics to evaluate their most important goals.    
"I want to give the director of every center or program a huge amount of leeway" when it comes to assessment, Patton said.
An adjunct faculty member in the Department of Psychology and Neuroscience, Serra helps departments define assessment goals and outcomes and develop "vision statements" that list learning outcomes for their majors, as well as plans for measuring those outcomes.
"What faculty don't want is something layered on top of all their other responsibilities," Serra said. "Who wants to have someone come in and say you have to do this on top of everything else? What they don't see is that a lot of what they already are doing constitutes assessment. If they take the time to document it and share it with us, then everyone gets access to information that is useful and effective."
Serra has worked on the issue for more than a decade, since former Dean Robert Thompson sought his assistance in compiling better data on the college's many education programs. When he started, Serra admits, "I didn't know what assessment was."
He's learned since then, and so have many of the faculty members and departments he's worked with. Their growing engagement with assessment reflects the increased national prominence of the issue, especially since a 2006 report from a national commission chaired by former Education Secretary Margaret Spellings challenged higher education to do a better job of documenting its successes and failures.
Spellings' task force focused less on research institutions such as Duke than on the growing number of new educational institutions, including for-profit institutions, that had little oversight. Nevertheless, "Bob Thompson and others saw what was coming," Serra said.
"We have always done assessment at the course level, through student class evaluations and other tools, and we started to get general education assessment in place," Serra said, "but when SACS came around in 2008 it was obvious we were uneven at the department level."
Four years later, development of the department assessment committees and the variety of ongoing projects are strong indicators of progress, but nobody is declaring success.  "A lot of our faculty are still disengaged [on assessment]," said Steve Nowicki, dean of undergraduate education. "We need to figure out how to draw them in."