At the request of Italian authorities, a team of American archaeologists spent three summers in the late 1990s digging up a 2,300-year-old house on a Sicilian hillside. They were seeking proof that silver objects on display at a prominent American museum had been plundered from the ancient site.
The team followed the evidence and helped prove that 16 ancient cups, bowls and other objects on display at the Metropolitan Museum of Art in New York City were stolen property. 
The Met eventually returned the silver, one of several high-profile returns of pilfered artifacts -- an act called "repatriation" -- that set the antiquities community abuzz over the past decade.
And Carla Antonaccio, chair of Duke's Classical Studies Department, can claim a sliver of the glory.
An archaeologist may seem an unlikely character for an international detective story, but that's the role Antonaccio has played as a field archaeologist working in close partnership with the Italian government. She's not exactly Indiana Jones, brandishing a bullwhip or battling bad guys, but she and her co-investigator, Malcolm Bell of the University of Virginia, have used their expertise to help Italy recover lost treasure.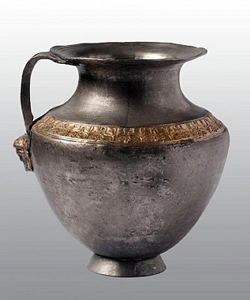 An ancient artifact from Morgantina, Sicily.
For the last two decades, Antonaccio has spent part of nearly every summer at Morgantina, a 2.5-square-mile stretch of countryside about 40 miles inland from Catania on Sicily's eastern coast. Among ancient archaeological sites, this settlement is notable for the lessons it provides about how cultures not only clashed but also lived together. Artifacts recovered from Morgantina over the last six decades suggest communities that, while at odds with each other, managed to co-exist -- unlike in other parts of the world, where one would conquer the other.
"Sicily is one of those places that was continually overrun," Antonaccio noted. "The Vikings ran through there. The Arabs held it for many years. So it's a great laboratory to set up shop and see how people lived." 
At Morgantina, the native Sicilians first had to face the Greeks, and then the Romans, during the second half of the first millennium B.C. 
Antonaccio has long worked closely with Bell, now emeritus professor at the University of Virginia who is widely seen as the American scholar at the forefront of the repatriation movement. The Morgantina excavation began in the 1950s as a Princeton University project; Bell eventually took it over and later added Antonaccio as its co-director in 1990. Both hold Ph.Ds from Princeton.
Antonaccio routinely brings students to Morgantina to dig in the rural setting. Daven Reagan spent two summers there, excavating a 3 B.C. communal bath, converting the old paper inventory to a computer database and working in the museum's storage facilities. Back at Duke, she has been Antonaccio's research assistant, digitizing old slides and photos and, working with George Dubay of Duke's Department of Chemistry, analyzing pottery residues for clues about the contents of ancient vessels. 
At Morgantina, she met Sicilians, immersed herself in the local culture and gained a perspective no textbook could possibly provide.
"When you're on site and digging up pottery, you can touch it and feel what it weighs," said Reagan, who received a bachelor's degree from Duke in 2010 and is now in a post-baccalaureate classics program at UNC-Chapel Hill. "It's another level of experience you don't get in the classroom."
Morgantina's remains suggest a small but highly complex and sophisticated urban community, culturally Greek but retaining traces of its original indigenous culture. In 3 B.C., before Rome took over the island, it had a theater, a bank, civic offices, shops and blocks of houses laid out on a grid plan of intersecting streets and avenues.
Through the years, Antonaccio has aided the Italian government's repatriation efforts by writing letters, giving talks and taking part in panel discussions about the origins of ancient artifacts. 
"It's a global problem," she said. "The countries can't police it all themselves. There's too much stuff."
And too much temptation. 
The origins of treasures stolen from ancient sites like Morgantina are often misrepresented when the artifacts are sold to museums or private collectors. Their back stories can be difficult to trace, which is why experts like Antonaccio and Bell are so valuable.
Antonaccio was not directly involved in the most visible case of repatriation in Morgantina. But she has a deep appreciation for what the 2011 return of "The Goddess" meant to the people of Aidone, the modern-day Sicilian town where the Morgantina dig site is located.
The goddess is a marble-and-limestone statue that was displayed for 22 years at the J. Paul Getty Museum in Los Angeles, which bought it for $18 million in 1988. Initially thought to be Aphrodite, experts now believe the statue is actually Hera, the Greek goddess of marriage. And that wasn't the only mistake related to her heritage. Scholars eventually convinced museum officials the statue had been swiped long ago from Sicily.
The goddess's long-awaited return to Morgantina was a triumph for the small Sicilian town, which threw a massive party in celebration.
"Everybody dressed up in Greek clothing and had a procession through the ancient site," recalled Reagan, the former Duke student who was there when the goddess returned. "They were very excited. The people are very proud of that site and their past and history."
Detective work by the American team was key in proving that the bowls, ladles plates and other implements long on display at the Met in New York City had also been pilfered from Morgantina. They helped prove it by matching an inscription on one of the silver pieces -- the name 'Eupolemos,' -- to a land deed found at Morgantina.
"It wasn't a common name," Antonaccio recalled.
Antonaccio will return to Morgantina this summer to work in the newly invigorated museum, which now properly displays the silver and other objects it has finally reclaimed.
"I shouldn't be allowed to own these things and no one should be able to buy such objects which suddenly appear on the art market, either," Antonaccio said. "They belong in their countries of origin."