A Jack Of All Trades
Cody Skidmore spends his free time on a variety of hobbies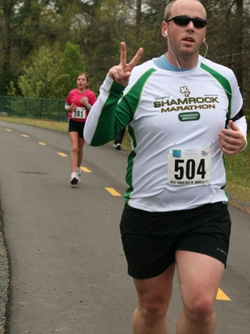 Name: Cody SkidmorePosition: Help desk specialist, Fuqua School of BusinessYears at Duke: 2 years 
What I do at Duke is: I provide three lines of support - email, phone and walk-in support to students, staff and faculty at Fuqua. I cover everything computer related, from upgrading memory and hard drives, to teaching how to backup data, troubleshooting, wireless connectivity issues and setting up software.
If I had $5 million, I would: I've got so many hobbies I'd want to invest in, it'd tough to choose. I'd squirrel it away for a while to get an idea of what I'd want to invest that money in. My current interests include running, traveling, cycling, backpacking, canoeing, homebrewing - and I just took a flying lesson.
My first ever job was: I worked in a cafe in my hometown of Grand Lake, Colorado. I was bussing tables, washing dishes and serving coffee and pancakes. A little bit of everything.
My dream job is: I pretty much have my dream job now. It gives me the freedom of pursuing all my career-related interests, from website design to troubleshooting to customer service. It's a pretty nice job that I already have.
If someone wanted to start a conversation with me they should ask me about: Pretty much anything. With the number of hobbies I have, I think I can get with any conversation.
What I love about Duke is: Duke Chapel. It's my favorite place at Duke. When I was at East Carolina University getting my bachelor's and master's degrees, I went on two mission trips with students from Duke, UNC and ECU (East Carolina University) to Guatemala and Nicaragua. After the Guatemala trip, some of the Guatemalans came here to visit, and we all met at Duke Chapel to climb the tower. We got to see all of campus.
When I'm not at work, I like to: The number one thing I'm currently doing this spring is running. I recently ran in New Orleans for a half marathon. I usually spend three or four days a week running, and I try to throw one or two other days of cycling with that. I'll go anywhere from three to six miles each run when I'm training for a half marathon. Aside from running, I also really like bluegrass and the local music scene. There's so much musical talent in the Triangle that allows for some great shows.
If I could have one superpower, it would be: Flying. After taking a flying class, I think it would be a pretty cool super power to have. Flying gives you the freedom of being like a bird and soaring. It'd be a fun way to just enjoy nature and the outdoors.
A Movie I like: The Shawshank Redemption is one of my all-time favorite movies. The Princess Bride is another. I can't watch that movie with someone who hasn't seen it because I tend to quote it about five minutes before the lines show up in the movie.