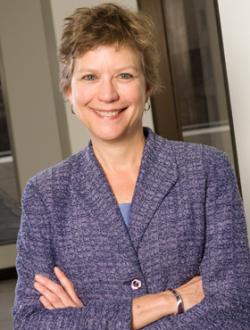 A public memorial service to celebrate the life of former
Duke Graduate School Dean Jo Rae Wright will take place at 10:30 a.m. Monday,
March 12, in Duke Chapel.
The secular program will include remarks and anecdotes from
Wright's colleagues, family and friends.  Duke President Richard H. Brodhead will
officiate the service.
A professor of cell biology, medicine and pediatrics, Wright died last month after
a years-long battle with breast cancer. She was 56.
Known for her research on how pulmonary epithelial and
immune cells prevent infection and inflammation in the lung, Wright was also cited
as a devoted teacher and mentor and a promoter of women in the sciences.  Following her death, Duke established two fellowships in
her honor to recognize one female Ph.D. student in the biomedical sciences and
one in the natural sciences.
Wright joined the Duke faculty in 1993 as an associate
professor and soon began working to develop programs to provide graduate
students with training in skills designed to further their careers. She was
honored twice with the Excellence in Basic Science Teaching Award at Duke.
In part because of these efforts, Wright was appointed
associate dean for graduate programs in 2000 and then vice dean of basic
sciences in the medical school in 2002. She became dean of the Graduate School
in 2006, which entailed overseeing the recruitment and training of more than
2,900 students pursuing graduate degrees at Duke.
Visitors wishing to attend the service may park in the Bryan
Center parking garage off Science Drive on Duke's West Campus. In addition,
parking will be available in lots along Duke University Road near Chapel Drive.
People with accessibility needs may be dropped off at the chapel, but their
drivers must park in general parking.