Duke & UNC vs. the World's Problems
Rivals on the court, the two universities collaborate in the region and around the world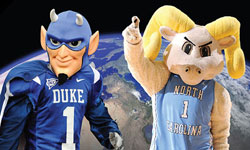 It's basketball
season and when Duke and North Carolina battle on the court, it's among the
greatest rivalries in sports. Off the court, though, the two schools join
forces often to tackle challenges ranging from global warming to studies of the brain.
UNC University
Relations created this chart to illustrate some of the many academic
collaborations between Blue Devils and Tar Heels. Duke Today is pleased to
reprint it here. Our colleagues down the road still wear the wrong shade of
blue, but we're lucky to have each other as neighbors.
Learn more:
Energy Frontier Research
Center
Solar fuels:
Leaving the wood for the trees
The Consortium
in Latin American and Caribbean Studies
The Carolina Center
for the Study of the Middle East and Muslim Civilizations
Duke-UNC Brain Imaging
and Analysis Center
Renaissance Computing
Institute
Building New
Newspaper Business Models
Grant
to fund UNC journalism partnership with N.C. newspapers to create new business
models around hyper-local news
DeWitt
Wallace Center for Media and Democracy
The Robertson
Scholars Program
Kenan-Biddle
Partnership awards grants to enhance UNC-Duke collaborations