Orin Starn Takes Your Questions on Tiger Woods, Thursday at Noon
Professor Orin Starn takes viewer questions during a live webcast about his new book on American golf culture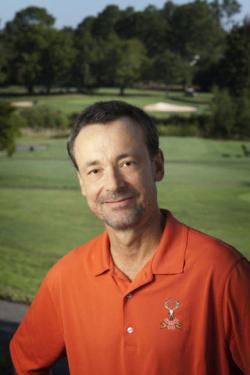 The meteoric golf career -- and subsequent sex scandal -- experienced by Tiger Woods reveals a lot about American attitudes toward race, sexuality and celebrity, says Duke University Professor Orin Starn, author of the new book "The Passion of Tiger Woods: An Anthropologist Reports on Golf, Race and Celebrity Scandal."
Starn will answer viewer questions about the book, Woods and American golf culture during a live "Office Hours" webcast interview Thursday, Jan. 26, at noon on the Duke University Ustream channel. To pose a question for Starn, send an email to live@duke.edu, post to the Duke University Facebook page or Tweet with the hashtag #dukelive.
"Mainstream media outlets steered clear of bringing race into Tigergate, but not the blogs, message boards, and forums," Starn writes in "The Passion of Tiger Woods." "The ugly racial commentary around Tigergate was too voluminous to be written off as the ranting of a few cranks or haters. If surely not representative of the American majorities, the thousands of racially charged, sometimes outright racist posts pointed to persisting and still quite powerful riptides of prejudice and worse."
       Starn describes his new book in a video
Starn is chair of Duke's cultural anthropology department and has taught courses on the anthropology of sports. He is a casual golfer and blogs about the sport at Golf Politics. Aside from American sports, his research focuses on social movements and indigenous politics, particularly in Latin America and native North America.
Contributing to the conversation will be Duke alumnus Joe Ogilvie, who has played on the PGA tour since 1999 and known Woods since he was a teenager. With his bachelor of arts in economics from Duke, Ogilvie has been called "arguably the smartest player on the tour."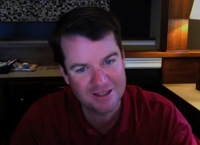 Joe Ogilvie '96
"Tiger has come back and played the game," Ogilvie said in an interview recorded for "Office Hours." "The roars when he won the Chevron World Challenge [last month], they were back to 'Tiger roars.' People were genuinely upbeat with Tiger winning."
Duke's "Office Hours" webcast series allows members of the Duke community and others to engage in live conversations with faculty about their research and scholarship. Visit the Office Hours website to see a schedule of upcoming topics, watch past episodes and sign up for email reminders.